Better patient flow for best care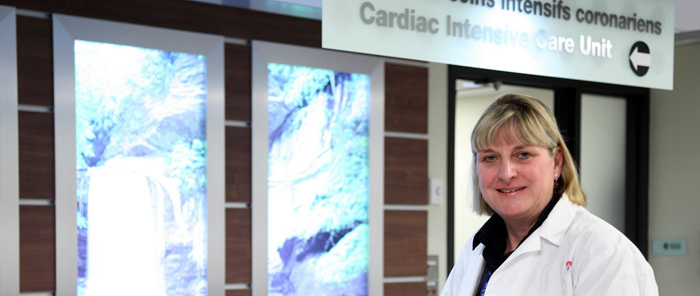 Hard work and dedication bring significant improvements in patient flow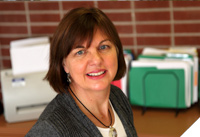 Carol Common, Community Outreach Senior Adviser and member of the Patient Flow Committee.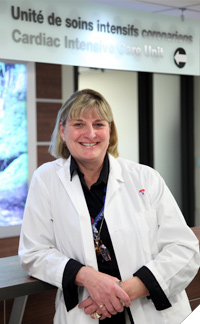 Dr. Ewa Sidorowicz, Director of Professional Services and Chair of the MUHC Patient Flow Committee.
Managing patient flow is at the heart of a hospital's operations. It means managing how patients enter the hospital – most commonly via the emergency department (ED) or in a planned way, for surgery – how and where they are treated, and how they are eventually discharged. It's an immensely complicated process, and one that needs constant fine tuning.
Guiding the evolution of this complex, multi-faceted process at the MUHC is the Patient Flow Committee, chaired by Dr. Ewa Sidorowicz, Director of Professional Services. "Patient flow is about analyzing the entry points into the system and then looking at how patients move through the MUHC and eventually join into the community." says Dr. Sidorowicz. "It is crucial to the efficient operation of our hospitals. As tertiary care centres, we are responsible for some of the most difficult cases, so we have a special obligation to care for patients as quickly and effectively as possible."
Patient flow involves the coordination of many hospital personnel working in different areas – a fact reflected in the makeup of the Patient Flow Committee, which includes medical and nursing representatives from all of the main clinical areas, as well as support from logistics, quality and performance. Members of the committee work with stakeholders to improve flow in a variety of ways.
"For instance, we study what happens when patients come to an ED," says Dr. Sidorowicz. "We look at how to optimize initial assessments of patients and how to expedite diagnostic tests as efficiently as possible. We are also setting clear expectations about what should happen. In our EDs, a definitive decision must be made about each patient's care within 24 hours or less. Patients are admitted, sent home or referred to another facility. We're also focused on safe discharge procedures. With an average of over 450 ED visits and over 85 surgeries daily, we must constantly make room for new patients."
The Patient Flow Committee has been working with clinical teams to ensure discharge planning is done carefully and that patients are empowered and involved in the process. Logistics and housekeeping staff contribute to improved patient flow by ensuring beds vacated by discharged patients are quickly made ready for new occupants and that transport is able to efficiently react to transfer requests within the hospital.
Liaison nurses provide essential support during discharge process
"I supervise two teams of experienced liaison nurses, one at Montreal General, one at Royal Victoria," explains Carol Common, Community Outreach Senior Adviser and member of the Patient Flow Committee. "These nurses support clinical teams by finding appropriate resources in the community for patients who are being discharged."
"Our job is to help reduce waits times in emergency and surgery by managing the length of patients' stays. As a complex care institution, our volumes are high and patient flow is key to the smooth running of our hospitals. But of course, discharges have to be safe, so we have to know what resources are available out there. We have to 'hand off' patients to another service that will continue their care. We work with nurses, physiotherapists and social workers to be sure patients get what they need after discharge."
As technology and process engineering advance, the MUHC is taking advantage of new tools to coordinate and streamline patient flow. However, improving patient flow is ultimately about people, according to Dr. Sidorowicz.
"There's a huge cultural component to this," she says. "To really make a difference, we all have to be motivated to increase efficiency and flow in the ED, in surgery and in the area of patient discharge. To do this, we are focusing on continuous quality improvement and we are committed to trying innovative ways of delivering care. We also have to constantly remind ourselves why we're doing this. It's easy to get too focused on statistics and measurements, and yes, it is important to measure how we're progressing – but ultimately it's about improving the quality of care for our patients."