Let's remain vigilant! Measures and rules to apply when coming to the MUHC 
As of May 14, 2022, masks are no longer mandatory in public places in Quebec, with the exception of healthcare facilities where masks remain MANDATORY.    
The McGill University Health Centre asks that the community respect these sanitary measures in order to reduce the transmission of COVID-19 and any other infections.  
It is MANDATORY to wear your mask at all times on all MUHC sites.  
Please disinfect your hands upon arrival at the hospital.    
Do not visit a patient if you have COVID-19-like symptoms or are confirmed positive for COVID-19.   
Avoid visiting a patient if you have been in contact with a COVID-19 positive person within the last 10 days.   
By respecting these health guidelines, you are helping to protect our patients.  
The MUHC and its patients thank you for your cooperation!    
General information regarding the MUHC visitation policy: 
The visiting hours are from 8 a.m. to 9 p.m. Flexibility is provided for people at the end of life or other situations deemed exceptional.
Family members, companions and visitors will no longer need to present their proof of vaccination (paper QR code or VaxiCode application) and a photo ID to access our sites.
The MUHC no longer identifies caregivers with bracelets.
In most units, patients may receive up to two (2) caregivers or visitors at the time. Please note that restrictions apply in oncology and the transplant unit (see section below). 
For positive COVID-19 patients, and in the event of an outbreak on a unit, additional restrictions can be applied. 
Family rooms on patient care units are available for use. It is recommended that: 

One (1) family bubble at the time uses the family room. If more than one family bubble is present simultaneously, 2-metresocial distancing must be maintained and a mask worn by all persons present. 
The environment (such as the table and microwaves) should be cleaned after use. 
Kids
For children going to a clinic for a test or treatment, please limit yourself to one parent or one accompanying person, unless you feel that the presence of two parents is absolutely necessary. 
Siblings and visiting children under the age of 12 are welcome in most areas of the hospital (except in oncology) 
The child must be directly supervised at all times by an adult who is not the Patient.
Certain exceptions apply:

Only one (1) child less than 12 at a time 
ICU: Notify in advance for visits to intensive care units 
Hemato-onco and transplant unit: by exceptions only 
Inpatient Psychiatry Units (both adult and pediatric): children younger than 12 years of age may not be permitted to visit depending on the acuity of the unit at the time of their visit. This will be determined by the management and Healthcare Team of the unit. 
COVID-19 outbreaks on MUHC hospital units
The MUHC is asking visitors to avoid or postpone, if possible, a visit to a patient on a unit that is affected by a COVID-19 outbreak.
By reducing the number of visitors on our units that have outbreaks, you are contributing to the safety of our patients, our employees and yourself!
If you have any questions, please contact your loved one's unit.
Site
Unit
Date of outbreak
Outbreak status
Aucune éclosion
Specific instructions for certain departments:
Intensive Care units
Family and visitors may be asked to leave the bedside of the patient when the patient requires care or when shifts change. If this is the case, family and visitors should wait in designated areas.
Children may be allowed in this unit but permission must be sought in order to prepare for the visit.
Before coming to the hospital, we invite you to communicate with the unit.
Emergency Department
The possibility of more than one accompanying person to remain with the patient will be determined by ED staff. The decision will take into consideration the available space and the possibility of physical distancing in the waiting room.
For children who come to the emergency department, a parent or caregiver can accompany the child.
End-of-life care
We know how important it is for a loved one at the end of life to be surrounded by family during those last moments. Flexibility is provided to facilitate the presence of loved ones during the last moments. For more details, please refer to the care unit manager 
Residents of the Camille-Lefebvre Pavilion of the Lachine Hospital
The Camille-Lefebvre Pavilion follows the rules and directives established by the Ministry of Health and Social services.   
The total number of designated caregivers is 10 per day. However, we suggest visitors speak to the unit's head nurse to plan a visit for large groups. 
Access to the common areas for caregivers and visitors, while respecting health care guidelines, is once again permitted. 
Some restrictions may be applied in accordance with the Ministry of Health and Social services and infection prevention and control guidelines. 
We are maintaining the signature log that was in place prior to the pandemic. 
Birthing Centre
Maternity
Antnatal and postnatal: Generally, up to four (4) significant persons, will be permitted in the unit, including the partner as well as siblings and or children of more than twelve years old (no non sibling below 12).
Birthing Centre
Two (2) significant persons, including the partner, will be permitted in the Birthing Centre (only one (1) person is permitted in the operating room). No children allowed.
Oncology
Due to the high vulnerability of patients on the cancer care units, other visiting restrictions may apply.
Generally, only one (1) family caregiver may visit at a time and the total number of family caregivers per day is restricted. 
Before coming to the hospital, we invite you to contact the unit.
Montreal Children's Hospital
Adult ambulatory/outpatient services
YOU HAVE AN APPOINTMENT  SCHEDULED by phone 
Your doctor will call you on the day of your appointment
YOU HAVE AN APPOINTMENT OR TREATMENT SCHEDULED in person
We recommend that you attend your appointment alone. However, if you need to be accompanied, we ask for one (1) caregiver to be present. If you need 2 accompanying persons, please inform the clinic prior to your appointment so that we can evaluate if this is possible. If you are having a procedure or treatment that will last over an hour, we may ask your friend or family member to leave and return to pick you up at a specific time provided by the clinic or the day hospital. 
Exceptions are in effect in oncology at the Cancer centre, NO CAREGIVERS OR ACCOMPANYING PERSON (exceptions are made for patients for whom it is their first appointment, that need help with mobility or with translation).
Upon arrival at the clinic or day hospital, you and the person accompanying you, will be screened for symptoms of COVID-19 and other types of infection: fever, cough, sore throat, diarrhea, difficulty breathing, shortness of breath, nasal congestion and runny nose.  
For your safety and the safety of our patients and staff, we rely on your sincerity when answering our screening questions. This allows our staff to take the necessary steps to ensure everyone's protection. If you have symptoms, please consult the next section. 
If you have symptoms of COVID or other infections
If you have COVID-19 or other type of infection symptoms, you must call the clinic BEFORE coming to your appointment. The physician or healthcare professional will be consulted to determine if the appointment can take place as planned or be postponed by a few days.
 On the day of the appointment (if in person):
We ask that you arrive at the time we have indicated (not earlier than 10-15 minutes for your appointment) and that you leave the hospital immediately after ; 
Wearing a procedural mask, Hand sanitizing stations and social distancing measures are maintained in all areas of the hospital. We also count on your collaboration to respect the seating signs in the waiting areas.
Food and drink
To ensure a safe environment, we remind you of the importance of physical distancing and the wearing of a mask at all times. Also, we ask that you respect the signage when eating in the dining areas (cafeterias and other vendors). Eating in clinic waiting areas is discouraged.
5252 de Maisonneuve
Please note that there are no food services available at 5252 de Maisonneuve. If, for medical reasons, you must eat while you wait, please bring a snack and let the receptionist know when you check in. 
Specialized transport service
If you are transported with the aid of or coming from a care centre, you must be accompanied. There will be no one available from the clinic to take you from the entrance to the location of your appointment.
*Caregiver: A person who provides significant assistance or support, on an ongoing or occasional basis, to meet the needs and well-being of a loved one. Support can take many forms—for example, assistance with personal care, emotional support or organizing care.
**Visitor: It may be a person known to the person being cared for with whom contact is occasional and not essential to his/her physical and psychological integrity. A person who does not fall under the definition of a close caregiver.
We are now better able to help families stay connected with their hospitalized loved one. See below to find out how to:
Organize a virtual visit
It's now possible to stay connected with patients virtually. The MUHC understands the importance of patient and family-centered care and is now facilitating virtual visits and telephone calls.
How can I schedule a virtual visit with a hospitalized patient?
The MUHC has always promoted the presence of family and visitors at the bedside. Staying connected with families and friends offers comfort and is reassuring for loved ones who are healing. While most face-to-face visits are currently suspended, virtual visits have temporarily replaced them.
Thanks to electronic tablets, the MUHC can now facilitate virtual visits for those who do not have any.
If you or your loved one will soon be hospitalized, please make sure that you have one of the following Wi-Fi-enabled apps on your smart phone or tablet.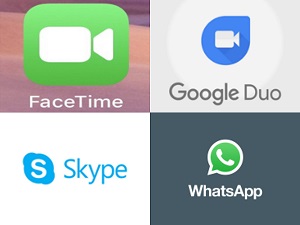 Please make sure to bring any charging cables.
Your loved one has a personal cell phone or tablet
If your loved one has a personal cell phone or tablet with them at the hospital, they can make and receive phone or video calls.* 
If your loved one has a tablet or cell phone, but does not have it with them, please see What If I Need to Bring Something to My Loved One? at the end of this guide.
*Tip: Video calls require personal data. 

Your loved one can connect to the hospital's free hospital Wi-Fi network
Network: CUSM-MUHC-PUBLIC
Username: public
Password: wifi 
My loved one does not have an electronic device. How can I set-up a virtual visit? 
If your loved one does not have a personal cell phone or tablet (or is not able to use one), the Communication Assistance Service can help. A dedicated team of employees is available to help your loved one connect with you using a hospital tablet or phone.
This service is available to all adult hospitalized patients at the MUHC.
How to request this service
For all MUHC hospitals (except Lachine)
For the Lachine Hospital
Dial 514 934-1934
•    Dial extension 43008 or 34300
Dial 514 637-2351
If there is no answer, please leave a message.
If there is no answer, please leave a message.
Provide the details below:
Your loved one's name
The hospital and unit they are in
If you would like to have an audio (phone) or video call.
When can I expect a call?
There is a delay of 24 to 48 hours between the time you make the request and the time the call is set up.
Calls will be made from Monday to Friday between 8:00 AM and 4:00 PM.
How often can I use this service? 
Because the service is in high demand, we can set up a maximum of two (2) 15-minute calls with your loved one per week.
What do I need to prepare on my end?
If you have requested a video call, make sure that you:
Have a personal tablet or cell phone you know how to use.
Install a video call app like WhatsApp or Google Duo on your device.*
Can connect to a stable Wi-Fi network during the call (like your Wi-Fi at home), because video calls use data.
*Note: If you need help to download or set up a video call app either Google Duo or WhatsApp , please contact the Communication Assistance Service to let them know.
 
Schedule a phone call
If you would like to stay connected with someone who is hospitalized but does not have access to a tablet a smart phone, it is possible to contact the nursing station and to schedule a telephone call. Connecting via telephone There is a phone available by the bedside in every patient room. Your loved one can call you directly from this phone. You can also call them by following these steps:  Connecting via telephone
There is a phone available by the bedside in every patient room. Your loved one can call you directly from this phone. You can also call them by following these steps:
Option 1: I don't know the phone extension for my loved one's room
 

Option 2: I know the phone extension for my loved one's room
 
1. Dial (514) 934-1934
2. Choose option 3 
3. Give the operator your loved one's full name and ask for the extension for their room or ask to be transferred directly to the room.
 
1. Dial (514) 934-1934
2. Choose option 1
3. Enter the 5-digit extension.
If your loved one cannot answer the telephone, you may contact the hospital unit where they are staying (for example, short-term stay unit, ICU, etc.) and ask for an update from your loved one's nurse. 

We ask that you choose one family member to be the point person who contacts the unit. 

To contact the unit
1. Dial (514) 934-1934 
2. Choose option 3 
3. Ask the operator to either give you the extension for your loved one's unit or ask the operator to connect you directly.
4. Once you reach the unit, provide your loved one's name and room number and ask to speak to their nurse. If your loved one's nurse is not available, you may leave a message with your contact information and request a call back. You can also ask to speak to the nurse-in-charge.
Tip: It is better to call the unit at certain times of the day
Best times to call
Times to avoid (shift change times)

10:30 AM to 11:30 AM
2:00 PM to 3:00 PM 
8:30 PM to 9:30 PM

7:00 AM to 8:00 AM 
7:00 PM to 8:00 PM
We kindly ask that families designate one person to act as the spokesperson.
What to expect when coming to the MUHC
Photographing and filming in the hospital
To protect the right to privacy, the right to image and the right to dignity of patients, families, visitors and staff, the MUHC has adopted a policy concerning the taking of photos and videos by patients, families and visitors. 
If you wish to film or take a picture, or record a conversation, you must make sure that you have obtained the consent of the persons appearing in the image.
In some situations, you will not be able to film or take a picture, for example if the recording involves medical information (of a computer screen, file excerpts, etc.), if it is detrimental to the proper course of care or safety, or if it violates the dignity of a user. Please respect the staff's request and stop taking pictures.
For more details, you can also consult the policy Photographs, video captures and recordings by patients and visitors.