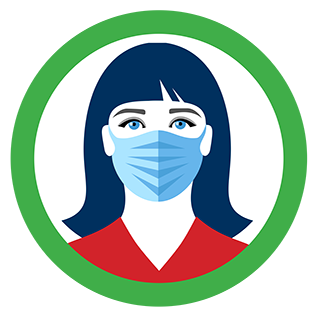 Reminder to all patients and visitors: Wearing a mask is mandatory at the MUHC
Since July 18, 2020, wearing a mask is mandatory in all indoor public spaces across Quebec. 
Wearing a mask is therefore mandatory on all MUHC sites including hospitals, long-term care facilities and all administrative buildings. 
There are certain exceptions notably for:
health-care employees who are completely behind Plexiglass coverings in certain clinical areas,

or while eating and drinking if you can respect the 2 metre distance from others,
Wearing a mask is obligatory throughout the day in all locations, including public spaces, elevators, and hallways. It should cover your nose, mouth and chin at all times and should not have a valve.
Mask wearing, physical distancing, and hand washing remain key in preventing the spread of COVID-19
Thank you for your co-operation.
What to expect when coming to the MUHC
Visits
What to Do and What to Expect: After Your COVID-19 Test
You were tested for COVID-19 today as part of a mass public health screening program.
It will take up to 4 days before someone calls you to give you your test results. If you have no symptoms and have not had direct contact with anyone who has COVID-19, you do not need to self-isolate while waiting for your results.
You should continue to protect yourself and others:
Respect physical distancing (stay at least 2 metres away from others).
Wear a mask when you cannot keep 2 metres distance as well as in all indoor public spaces (see mask tips on next page).
Wash your hands often with soap and water or with an alcohol-based hand sanitizer.
Your Test Results
Once we receive your test results, the hospital will contact you.
Please click here for more details
Restricted hospital entrances
In order to provide a safe environment for patients and staff we are restricting access to the hospital. Patients should arrive early to avoid being delayed by the triage process at the entrance and use the doors listed below:
Glen site
Adult (Bloc C/Bloc D): S1 and RC (ground floor) entrances
Montreal Children's Hospital (Bloc A/Bloc B): S1 and RC (ground floor) entrances
Cedars Cancer Centre entrance
Adult and Pediatric Emergency Department entrances on S1 level (for emergencies only)
Montreal General Hospital
Cedar Avenue entrance
Parking entrance
Livingston entrance on Cedar Avenue (L6) is reserved for dialysis patients only
Emergency Department entrance (for emergencies only)
Lachine Hospital
The Neuro
Main entrance 3801 University
Reduced mobility entrance beside the main entrance
Screening for symptoms at the door
Patients coming to the hospital for an appointment, a test or a treatment must wear a mask and will be greeted at the door by a triage team. The following questions will be asked:
In the last 7 days, have you had a new onset of one or more of the following symptoms: fever, cough, sore throat, diarrhea, difficulty breathing or shortness of breath, nasal congestion + runny nose, vomiting (children)?
In the last 14 days, did you have contact with someone who tested positive for COVID-19?
You have an appointment or a treatment scheduled?
If you are scheduled to come to the hospital for an appointment, a test or a treatment, you will be called up to 24h prior to your appointment time.
During the call, you will be informed if your appointment is postponed or maintained. You will be also be informed if your appointment will be in person, or over the phone.
If you will be coming in person to the hospital for your appointment, you will be screened during the call for COVID symptoms: fever, cough, sore throat, diarrhea, difficulty breathing, shortness of breath, nasal congestion and runny nose.
If your appointment is by phone, your doctor will call you on the day of your appointment, unless otherwise specified.
On the day of the appointment (if in person) :
You must call back the clinic if you have one or more of the COVID symptoms.
When you arrive at the hospital entrance, you will be asked again about COVID symptoms.
If you answer yes to any of the questions, your physicians or health care professional will be consulted to establish:
If your appointment is maintained or should be postponed
If you should be tested for COVID
All patients, helpers and caregivers will be required to wear a mask or face covering upon arrival at the hospital triage station.
For your safety and the safety of our patients and staff, we count on your honesty when responding to our screening questions. This allows our staff to make the necessary arrangements to ensure everyone's safety.
If you have not been called or have concerns about your coming appointment, please call the clinic directly.
Please note that calls may appear as "Non-ID" or 'Private Caller'. It is important that your phone is programmed to receive such calls in order to receive a call from the hospital.
Do you have a medical imaging test (x-ray, ultrasound, MRI, CT, Nuclear Medicine, PET) scheduled ?
If you were given your medical imaging appointment before March 12 (when the coronavirus crisis was declared), you will be called to confirm your appointment.
Appointments are given on a priority basis. If you were given an appointment after March 12, this means that your appointment has been prioritized, and confirmation is not required.
The Montreal General Hospital (MGH), founded in 1821, enjoys a distinguished world reputation, as well as an impressive history of community service. The MGH, a pioneer hospital in North America, introduced teaching at the bedside and founded the first medical school in Canada — the Faculty of Medicine at McGill University.
The hospital has remained a teaching hospital for the century and a half of the Faculty's existence. The Montreal General Hospital is dedicated to patient care through diagnosis, treatment, research and teaching. 
Access by car:  Entrance merger of Ave. des Pins and Chemin Cote de Neiges, ground floor.
Access by public transportation.
Open:  24 hours a day, 7 days a week
The emergency entrance is off Pine avenue.
Is your life or the life of someone you know in danger? Go to the nearest emergency department or call 911.  
Services: tertiary trauma centre, medical emergencies, psychiatric emergency department and short stay unit
---
Montreal General Hospital
1650 Cedar Avenue
Montreal, Quebec
Canada H3G 1A4