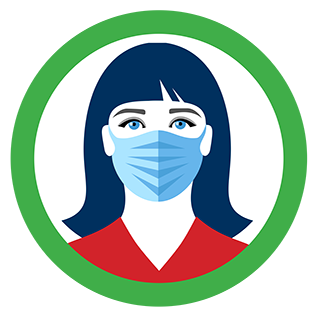 Reminder to all patients and visitors: Wearing a mask is mandatory at the MUHC
Wearing a mask is mandatory on all MUHC sites including hospitals, long-term care facilities and all administrative buildings. 
All patients and visitors must remove their mask upon entering the hospital (this includes all types of masks) and put on a procedure mask which will supplied to you by the MUHC.
There are certain exceptions notably for:
health-care employees who are completely behind Plexiglass coverings in certain clinical areas,
or while eating and drinking if you can respect the 2 metre distance from others,
Wearing a mask is obligatory throughout the day in all locations, including public spaces, elevators, and hallways. It should cover your nose, mouth and chin at all times and should not have a valve.
Mask wearing, physical distancing, and hand washing remain key in preventing the spread of COVID-19
Thank you for your co-operation.
What to expect when coming to the MUHC
Visits
COVID-19 testing centre
For information on the COVID-19 testing clinic click here
Restricted hospital entrances
In order to provide a safe environment for patients and staff, patients should at the entrances listed below:
Glen site
Adult (Bloc C/Bloc D): S1 and RC (ground floor) entrances
Montreal Children's Hospital (Bloc A/Bloc B): S1 and RC (ground floor) entrances
Cedars Cancer Centre entrance
Adult and Pediatric Emergency Department entrances on S1 level (for emergencies only)
Montreal General Hospital
Cedar Avenue entrance
Parking entrance
Livingston entrance on Cedar Avenue (L6) is reserved for dialysis patients only
Emergency Department entrance (for emergencies only)
Lachine Hospital
The Neuro
Main entrance 3801 University
Reduced mobility entrance beside the main entrance
You have an appointment or a treatment scheduled?
If you are scheduled to come to the hospital for an appointment, a test or a treatment, you will be called up to 24h prior to your appointment time.
During the call, you will be informed if your appointment is postponed or maintained. You will be also be informed if your appointment will be in person, or over the phone.
If you will be coming in person to the hospital for your appointment, you will be screened during the call for COVID-19 symptoms: fever, cough, sore throat, diarrhea, difficulty breathing, shortness of breath, nasal congestion and runny nose.
If your appointment is by phone, your doctor will call you on the day of your appointment, unless otherwise specified.
On the day of the appointment (if in person) :
You must call back the clinic if you have one or more of the COVID-19 symptoms.
When you arrive at the hospital entrance, you will be asked again about COVID-19 symptoms.
If you answer yes to any of the questions, your physicians or health care professional will be consulted to establish:
If your appointment is maintained or should be postponed
If you should be tested for COVID-19
All patients, helpers and caregivers will be required to wear a mask or face covering upon arrival at the hospital triage station.
For your safety and the safety of our patients and staff, we count on your honesty when responding to our screening questions. This allows our staff to make the necessary arrangements to ensure everyone's safety.
If you have not been called or have concerns about your coming appointment, please call the clinic directly.
Please note that calls may appear as "Non-ID" or 'Private Caller'. It is important that your phone is programmed to receive such calls in order to receive a call from the hospital.
Do you have a medical imaging test (x-ray, ultrasound, MRI, CT, Nuclear Medicine, PET) scheduled ?
If you were given your medical imaging appointment before March 12 (when the coronavirus crisis was declared), you will be called to confirm your appointment.
Appointments are given on a priority basis. If you were given an appointment after March 12, this means that your appointment has been prioritized, and confirmation is not required.
Notice to Patients of the Lachine Hospital and the Community at Large
Please note that a modular unit will be installed in front of the Lachine Hospital entrance on 16th Avenue. This modular unit will replace the three tents that were installed there last summer. Click here for more information.
MUHC patients, including patients from the Lachine Hospital, can be tested at clinics located in the West Montreal region.
Since its founding in 1913, Lachine Hospital has had a rich history of providing excellent healthcare services to the community.
As part of the McGill University Health Centre (MUHC) since 2008, Lachine Hospital patients experience the comfort of a community-based hospital environment, while benefiting from the resources of one of the world's foremost academic health centres.
With specialty mandates in geriatric medicine, bariatric, and ophthalmology, Lachine is also connected to the Camille Lefebvre long-term-care pavilion, which offers 134 single-patient rooms including 20 long-term-respiratory patient beds.
Managers at Camille Lefebvre Pavilion:
Chantale Bourdeau, Director of the Camille Lefebvre Pavilion
France Nadon, unit manager, 2 East
Judith Morlese, unit manager, 3 and 4 East
At all times during evenings, nights, weekends and holidays, the activity coordinator is on duty.
The Lachine Hospital is currently involved in a major modernization project. Dubbed HOP Lachine! – A hospital oriented towards patients, this project, which is being developed in partnership with the Ministry of Health and Social Services (MHSS) and the Société québécoise des infrastructures (SQI), aims to expand our community hospital and upgrade some units the historic building. Once completed, it will allow the hospital to maintain its high quality of care with modern facilities and individual rooms.
Services offered 

Medicine

Cardiology
Hematology
Ophthalmology
Critical Care
Infectious Diseases
Pneumatology
Emergency Medicine
Internal Medicine
Rheumatology
Gastroenterology
Neurology
Palliative Care

Surgery

Bariatric Surgery
Foot and Ankle Surgery
Otolaryngology Surgery
Cataract Surgery
General Surgery
Urology Surgery
Critical Care
Plastic Surgery
 

Ambulatory Services

Audiology
Geriatric Day Hospital (until summer 2015)
Physiotherapy
Endoscopy
Hemodialysis
Pulmonary Function Tests
(Inhalation Therapy)
Day Medicine
Medical Imaging
 

Camille Lefebvre Pavilion

Long-term Care
Long-term Respiratory Patient Program