A pilot project to manage patient flow and bed capacity at the MUHC - (10/04/2023)
Hospitals across North America have started implementing capacity command centres (CCCs) to manage patient flow and bed capacity. In fact, CCCs are considered an excellent strategy and have long been used in the airline industry as well as the military. 
Now, the MUHC Health Technology Assessment Unit (TAU) has assessed the feasibility of establishing a capacity command centre here, based on scientific and experiential evidence. The MUHC is excited to announce that we are piloting a Command Centre Dashboard to deliver actionable information to the right person at the right time. Among other goals, the pilot aims to implement ways to shorten wait times and hospital stays, optimize transportation operations, and better align patient trajectories. 
The TAU's report contains pertinent information for MUHC patients. Bed assignment, ambulance pick up, patient transfer capacity from other hospitals, and patient transfer post-surgery are variables known to improve through the efficacy of capacity command centres. Clinicians, nurses, and hospital administrators are therefore strongly encouraged to read the TAU's report. 
Topics of interest covered in the report include:  
The role of capacity command centres in improving patient flow  
The importance of access to real-time data for prompt decision-making  
Ingredients for establishing a successful command centre   
Success stories from centres that have implemented capacity command centres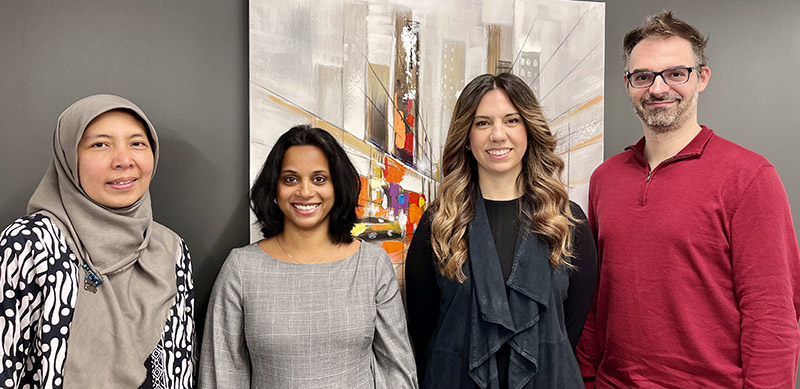 TAU is an advisory group established by the MUHC to help clinical teams and hospital administrators make informed decisions regarding the adoption of new health interventions using the best available scientific evidence. Their overarching goal is to ensure the delivery of quality medical care and a judicious allocation of resources. For more information on the TAU, visit muhc.ca/tau.  
We congratulate the TAU, whose work was selected as oral presentations at the Canadian Agency for Drugs and Technologies in Health (CADTH) and the Canadian Association for Health Services and Policy Research (CAHSPR) conferences in May. Dr. Eva Suarthana and Dr. Nisha Almeida, both adjunct professors at McGill University and associate investigators at the RI-MUHC, will present the findings of this report to an audience of health services and policy researchers and decision-makers from across Canada.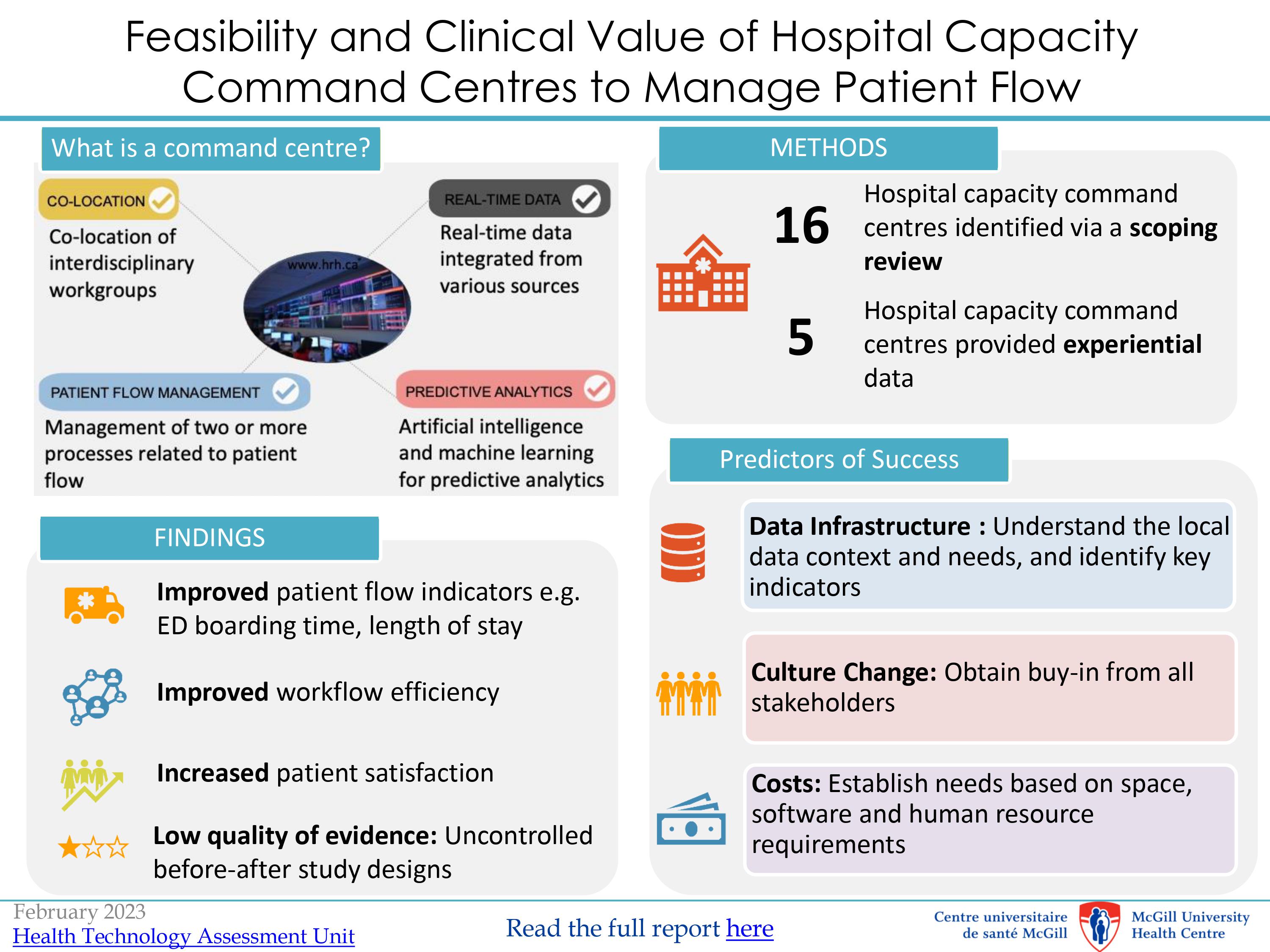 An innovative approach in palliative care wins award - (09/01/2023)
Canadian Foundation for Healthcare Improvement recognizes MUHC team for a project that integrates palliative care sooner in the treatment plan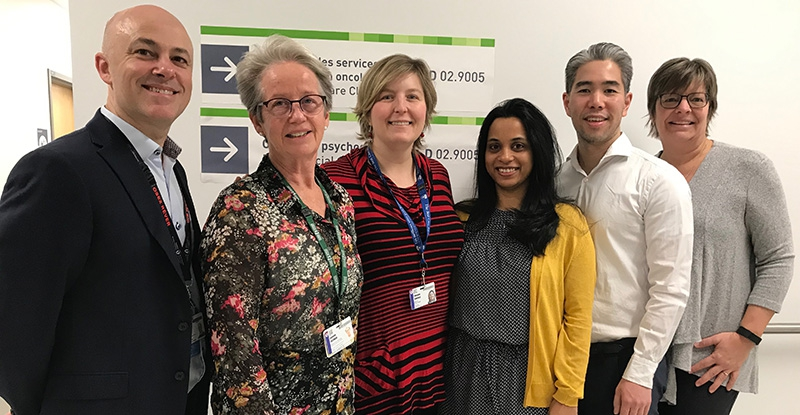 The team of the palliative care unit of the MUHC's Royal Victoria Hospital is among nine awarded teams in the innovation category. They won the first "Minidefi" which was set up by the Canadian Foundation for Healthcare Improvement, an organization funded by Health Canada. In November 2019, the project, which is aimed at encouraging MUHC health professionals to quickly integrate palliative care after a diagnosis of stage 4 or advanced lung cancer, was awarded a $10,000 scholarship. For Dr. Stéphanie Gingras, a specialist in palliative care at the MUHC, this recognition is well-timed, as it confirms that there is a clear, global change of approach now underway.
"Studies show that patients who receive palliative or comfort care within the first 4 to 8 weeks after being diagnosed with advanced cancer see their lives extended and their quality of life increased." Too often, palliative care is offered late, a few weeks before the patient's death, when it could actually be used not only for the end of life but also to relieve the adverse effects of chemotherapy, radiotherapy or just cancer itself. "
Better understand everyone's concerns
The scholarship will be used to finance the collection of data through a questionnaire offered to patients, nurses, radiation oncologists, oncologists, emergency physicians, and pulmonologists, in order to better understand the issues, concerns and the hesitations specific to each. The responses will be subjected to an analysis in order to set up an effective way of doing things, which corresponds to the needs of both patients and health professionals.
For Dr. Carolyn Freeman, a radiation oncologist and a member of the palliative care team, this step is important. "We cannot implement solutions without understanding the issues. Right now, we're looking at the feasibility and how we can implement this initiative. To do this, we need educational tools not only for patients but also for clinicians, so that they can improve care for patients who are not doing very well."
At the start of 2020, Dr. Gingras hopes that, upon diagnosis, the person responsible for the file will propose a treatment plan that includes palliative care to support and improve the quality of life of patients with stage 4 lung or advanced cancer. The goal of the project is to set up a structure that will encourage a more systematic way of doing things.
"There are already some initiatives within the MUHC medical community, but we must work better together to harmonize our efforts and help our patients," she concluded."