Rheumatology Residency Program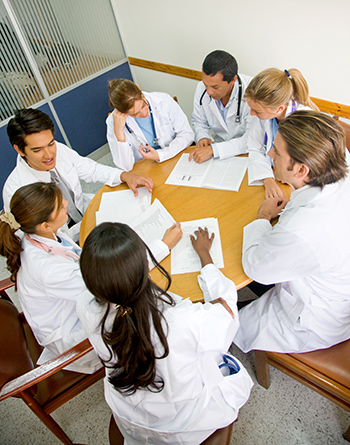 McGill University offers a 2-year rheumatology residency program with a maximum of 3 trainees per year. The residents rotate through sites at the MUHC and Jewish General Hospital as well at the Constance Lethbridge Rehabilitation Centre and at sites in the community. Residents participate in research and attend conferences in Canada and in the United States.
McGill offers fellowships in Lupus, Vasculitis and Scleroderma. These 1-year programs allow trainees to further their knowledge in these subspecialty areas as well as to pursue a research project in the field.
In addition, rheumatologists at the MUHC welcome trainees at all levels to complete a 4-week elective in the specialty, which is comprised of time working in the outpatient clinics as well as time working on the consultation service. There is a maximum capacity of 6 trainees per academic period.
Fellowships
The MUHC Division of Rheumatology hosts the McGill University Systemic Autoimmune Rheumatic Disease Fellowship. 
Continuing Medical Education
The MUHC Division of Rheumatology holds the following Continuing Medical Education events:
McGill Network Academic Rounds (weekly)
Rheumatology Research Seminars (monthly)
Rheumatology Academic Half-Days (weekly)
Introduction to Rheumatology (3-day course yearly in July)
McGill Vasculitis Clinic Extravaganza (yearly)