Talking organ and tissue donation with nurse clinician Wendy Sherry
Although she did not know it at the time, when Wendy Sherry agreed to accept a 10-month replacement position as a nurse in the organ and tissue donation program in 2005, she was about to embark on a path that would shape her career in a profound way.
Wendy had just finished her Bachelor's degree in nursing when she was offered the replacement position. She wanted to be a donor and the back of her Medicare card was signed.
However, her knowledge of the donation process was next to none so she began to read copiously and to ask lots of questions. Wendy asked herself, "Can I do this? Do I have what it takes to support families during this process?"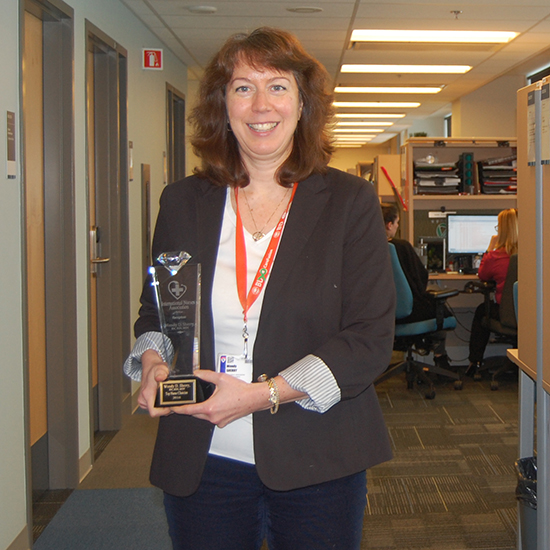 Earlier in her nursing career, Wendy was a member of the float team at the Montreal General Hospital and occasionally worked as a bedside nurse in the Intensive Care Unit; she also had some experience with end-of-life care. She was comfortable dealing with death, and decided that she had the necessary skill set to take on the challenge.
"With chronic care, you support the patient and their family over a period of time, whereas with organ donation, everything happens quickly. You have to take all your skills and speed them up, but still recognize that the patient's family needs time to understand and process everything," explains Wendy As an organ and tissue donation nurse, her focus is on the side of the donor family; she provides information, support and resources for families so that they can make an informed decision.
Wendy is part of a passionate group of approximately 20 donation nurses across the province of Québec. They meet once a month to share information and to establish standards of care based on best evidence to improve family support and the donation process. Even though they do the same jobs in different hospital cultures, they work hard to ensure that they all offer the same high standards of care.
Over the years, they have learned and improved upon the organ and tissue donation process. "We consult with everyone we think should be involved in the process, including anesthesiology, social work, spiritual care and more," says Wendy. "Everybody gets a chance to speak, everybody feels involved, and everybody's point-of-view is valid. This prevents tunnel vision, and when you move forward, there's less anxiety."
To recognize her exceptional leadership and contributions, Wendy was recently awarded the Top Nurse Clinician Award from the International Nurses Association and mentioned in the Worldwide Leaders in Healthcare. When asked how she feels about this honour, she was quick to share this recognition with her team.
"I work with a lot of hardworking people," she says. "It's all about the team; we all come together and everyone plays a part. The collaboration involves almost 100 people for a single donor, and everyone is proud to be a part of the process."