The Sign of a Hero—a story of a friendship that goes way beyond skin deep
Stephen Evans and Andy Bowers have been friends for about 15 years but on March 13, 2014 their friendship reached a new level in the Transplantation Unit of the Royal Victoria Hospital at the McGill University Health Centre.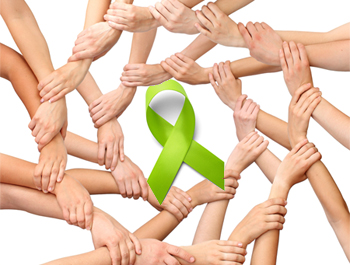 The friends' journey began last summer when Evans, after suffering cramps in his legs, was unexpectedly diagnosed with end-stage renal failure and learned he needed a kidney transplant. Bowers was shocked when he got the news. As an altruist person and father of two children, just like his friend, the first thought that came to his mind was "What can I do?" 
Over the following months, Evans received dialysis three times a week, went on a very strict diet and underwent a process to determine if he was strong enough to survive the transplant. Fortunately, the answer was positive, and the perfect match was found in January with Bowers, who had offered himself for the kidney donation. ''It's a strange and powerful feeling to be able to give someone's life back," says Bowers. 
Bowers had to endure a rigorous screening process before the actual transplant, to ensure that he was in good health and that he didn't have high blood pressure, diabetes, cancer, or kidney or heart disease, and was well prepared psychologically for what awaited him. 
The day of the transplant, Bowers' kidney removal started at 8:30 a.m. and lasted two hours, while Evans started at 9:30 a.m. and was finished within four hours. Evans's grafted kidney started working instantly. "All of my previous symptoms were gone the minute I woke up from surgery," he says.   
Through the experience, the friends learned that there were 5,500 patients on dialysis across Canada and 1,000 in Quebec—most are waiting for transplants. Renal transplantations save lives but it also saves big money. A renal transplant generates savings of a quarter of a million dollars over five years for taxpayers, when compared to dialysis, which costs about $60,000 a year per patient. This inspired them to launch the successful awareness campaign The Sign of a Hero, through which they tell their story to demystify some truths about organ donation and, above all, to encourage people to sign their donor stickers on their medical card. 
The inspiring message that Andy Bowers posted on the The Sign of a Hero Facebook page the morning after the surgery was this: 
"Morning World! Andy here, Stephen is still sleeping well. I walked back to Stephen's room yesterday evening after our wives had gone, and we chatted for an hour or so. We were both amazed at: 
How little pain we were in and how good we felt
How amazing Stephen was feeling (my kidney is apparently much better than dialysis!)
How many wonderful messages of support we had received... thank you!
How great the staff at the Royal Vic have been
And how amazing, strong and wonderful our wives were."
Their sign off words: "We feel blessed." 
About living kidney donation and paired exchanges
A kidney from a living donor may function better and last longer than a kidney from a deceased donor. Since 2009, interested and healthy enough incompatible donor-recipient pairs from across Canada can participate in the national Living Donor Pairs Exchange Program, which identifies matches between two or a series of pairs that could exchange their recipient, thus increasing chances of finding compatible donors. The program also welcomes anonymous donors ready to make a donation without knowing a recipient. 
For more information, visit organsandtissues.ca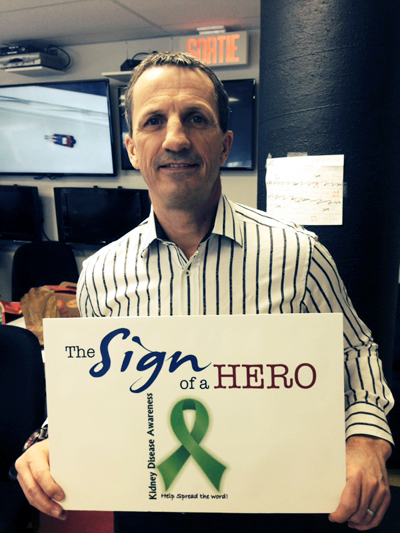 Guy Carbonneau is one of the celebrities who agreed to support the campaign The Sign of a HeroGuy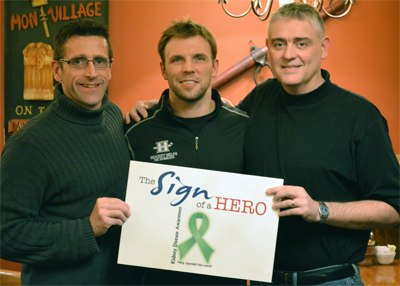 Andy Bowers, PJ Stock from Hockey Night in Canada and the Antichambre TV program and Stephen Evans