Inspiring day for those working towards a TB-free world
The words of Canada's youngest Inuit leader Natan Obed made an instant impact on the 100 scientists, students and healthcare professionals gathered at the Research Institute of the McGill University Health Centre on June 1 as part of the McGill International TB Centre's annual TB Centre Day.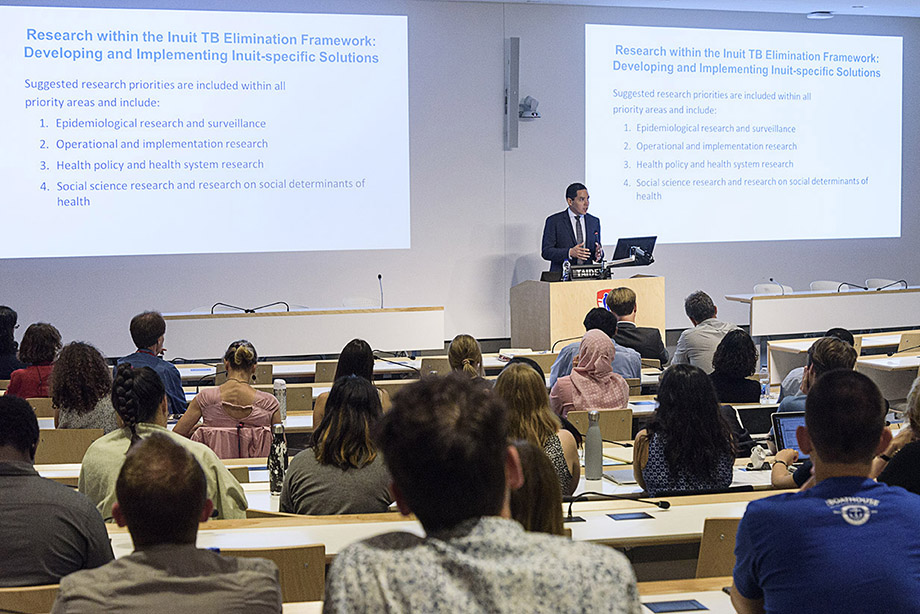 Natan Obed giving a lecture on TB elimination in Inuit communities at the Research Institute of the MUHC, Glen site.
"It means a lot when researchers are willing to partner with Inuit and not come to us as saviours," said Obed, the president of the Inuit Tapirit Kanatami, whose thoughts resonated with a group of researchers from the McGill International TB Centre that has been working to find solutions to the tuberculosis epidemic in northern communities for years.
Tuberculosis (TB) is curable and preventable but continues to affect more than 10 million people worldwide and cause 1.7 million deaths annually, according to the World Health Organization (WHO). Obed reminded the audience that the rates of tuberculosis among Canada's Inuit are 277 times higher than the national average.
Obed, the guest speaker at the 6th annual TB Centre Day, addressed the current situation surrounding TB in the North and unveiled some of the actions he and other stakeholders will take to attack the problem within the 53 Inuit communities he advocates for across Canada.
The day also served as a showcase for the contributions of research trainees who delivered oral presentations related to their work on TB. Seven students presented their research projects in front of their peers and had the chance to be congratulated by President Obed himself, with two receiving awards for the best presentations of the day.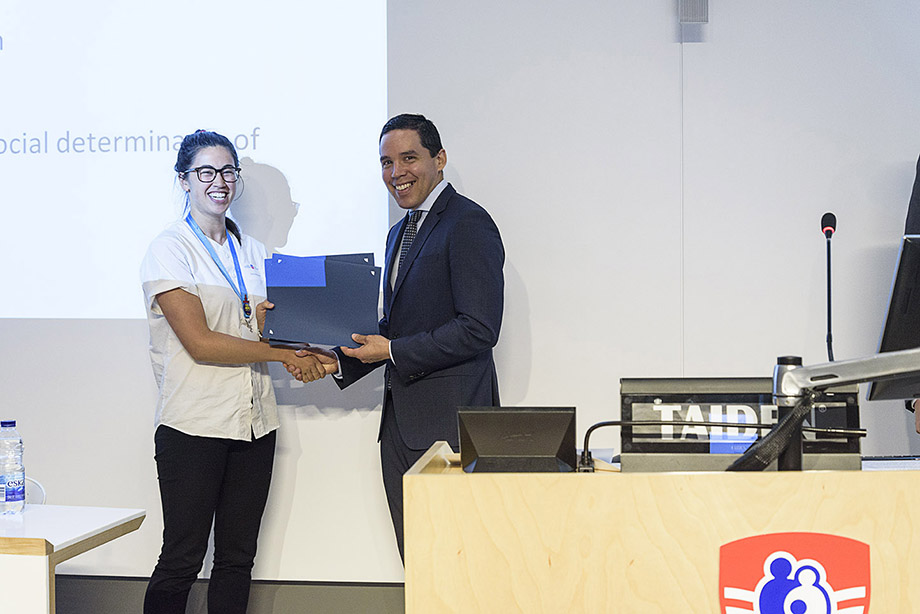 Emily MacLean, M.Sc. student with Dr. Madhukar Pai's team receiving her award from Natan Obed
"I feel very happy and excited. It was a surprise," said Emily MacLean, M.Sc., who is studying epidemiology under the supervision of Dr. Madhukar Pai, director of the McGill Global Health Programs and co-associate director of the McGill International TB Centre, and who presented a systematic review of biomarkers for active TB.  "I think the Centre is an optimal place where you can study TB. Everyone is so interested in making real change and not just doing research for no reason. Listening to Mr. Obed reminds us that research is contributing to immeasurable change and this is what it's all about."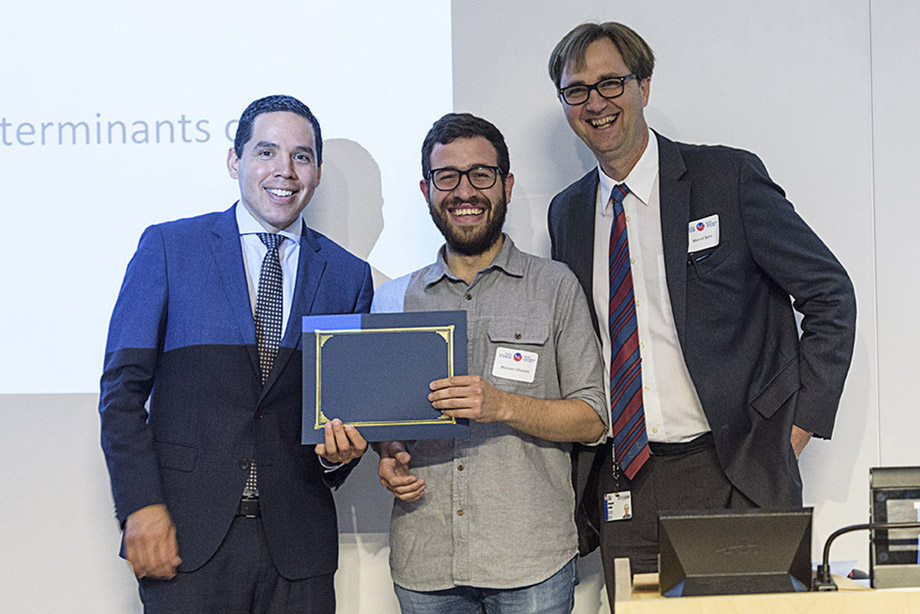 Marwan Ghanem, M.Sc. student in Dr. Marcel Behr's laboratory with Natan Obed (left) and Dr. Behr (right)
According to Marwan Ghanem, M.Sc. student in the laboratory of Dr. Marcel Behr, director of the McGill International TB Centre, "the talk was enlightening." He presented on the evolution of the disease and looked at the effect of genes that are found in TB on other infections.
"Bringing a person who is not a scientist to talk about real life issues puts everything into perspective for me.  It brings an end result to the mission we are trying to accomplish," added Marwan.
For the past six years in Montreal, research leaders have been working together under the umbrella of the McGill International TB Centre to better understand, diagnose and treat TB and other mycobacterial diseases.   In response to the TB outbreak in 2012, members of the Centre collaborated with Public Health authorities in Nunavik to enhance radiology services (for chest x-rays) and to introduce decentralized rapid testing for TB in Puvirnituq and Kuujjuaq.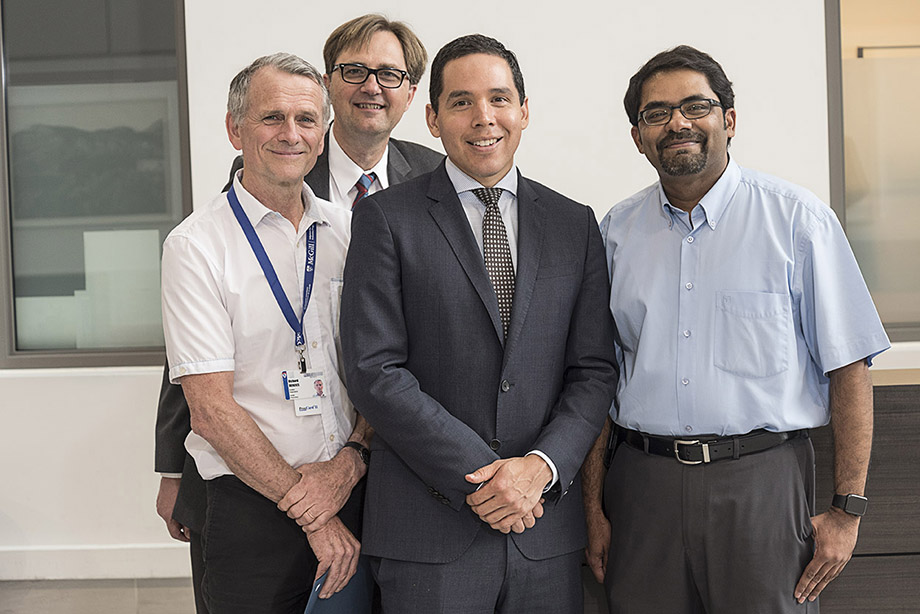 From left to right: Dr. Dick Menzies and Dr. Madhukar Pai, both co-associate directors of the McGill International TB Centre (front) with Dr. Marcel Behr (back), and Natan Obed (middle).
"As clinicians and researchers, we can offer support to conduct research on interventions that are introduced, to ensure the timely and effective application of the best tools to combat tuberculosis, as well as training for community-based health workers," said Dr. Marcel Behr, who is also an MUHC microbiologist and a scientist from the Infectious Diseases and Immunity in Global Health Program at the RI-MUHC. "A federal action plan is being devised to eliminate TB in Canada by 2030 and one of the keys to success will be to partner with the people in the  communities that are most affected."
Read more about it in The Gazette and in Québec Science. Listen to Natan Obed's interview with CBC Nunavut.
The event was co-funded by the McGill Interdisciplinary Initiative in Infection and Immunity and by McGill Global Health Programs.