More than $604,000 Raised for the Fight Against Brain Tumours
Montreal – Last night the inaugural A Brilliant Night - a gala fundraiser to benefit The Montreal Neurological Hospital site of the McGill University Health Centre (MNH-MUHC), raised more than $604,000 for brain tumour research.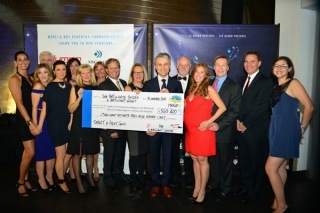 This impressive announcement was made during the event at the Rio Tinto Alcan Planetarium in the presence of Jacynthe Côté, Event Honorary Chair, Charles Tisseyre, Master of Ceremonies, community and corporate leaders from among the event's organizing committee, more than 50 volunteers, and close to 650 guests - all of who contributed to making this first edition of the event an overwhelming success. 
Guests were treated to a multi-sensory experience featuring two video installations exploring the fascinating universe of the brain, as well as culinary delights provided by some of Montreal's top chefs and restaurants. The evening successfully combined entertainment and education, while also paying tribute to the families and researchers working hand-in-hand in the fight against this terrible disease. 
 "This evening really makes us take a moment to recognize The Neuro's excellence and feel grateful to have such an incredible institution here in Montreal. To help The Neuro is to help remove the label 'incurable' associated to brain cancer and to give real hope to hundreds of families touched by the disease," Jacynthe Côté, Corporate Director and Event Honorary Chair. 
The total sum raised will go towards The Next Generation of Brain Cancer Treatment and TARGiT, two ground-breaking research programs at The Neuro aiming respectively at offering new therapeutic options for brain cancer patients and identifying novel molecules that can be targeted to prevent brain cancer invasion. 
 "We're really at the level of understanding the causes of these cancers and with that information you can learn to develop targeted therapies.  But to make headway researchers need help," said Dr. Kevin Petrecca, Chief of Neurosurgery at The Neuro. "To have a large group of people stand up and say 'we're going to do something about this' is exciting for us and it's inspirational. It pushes us to work even harder." 
It is estimated that today there are 55,000 Canadians living with a brain tumour and every day in Canada 27 people are newly diagnosed with the disease. Ten years ago, the average survival rate for patients with glioblastoma multiforme (GBM) – the most aggressive form of brain cancer - was less than one year. Thanks to recent advances such as those made at The Neuro, average survival rates are now approximately eighteen months, with some patients living beyond the three- and five-year marks.
About A Brilliant Night 
A Brilliant Night is a volunteer-led initiative supported by The Montreal Neurological Institute and Hospital. It is set to become a yearly event dedicated to raising funds for innovative research and patient care programs at The Neuro. This first edition was sponsored by Lumen and SNC Lavalin as well as made possible thanks to the generosity of: ABB, Beatrice Ristorante, Bell, Cadillac Fairview Corporation Limited, Celebrations, CIDMA, Construction C.A.L., DevMcGill, Industrial Alliance, Ivanhoé Cambridge, Kevric Real Estate Corporation, Logistec Corporation, Luxe Rentals, Metro Inc., Mount Stephen Hotel, PCL Construction, Power Corporation of Canada, SAQ, Total Events & Entertainment, TC Transcontinental and Tuck Shop.
About the Next Generation of Brain Cancer Treatment Program
The Neuro is developing a 'next generation' brain cancer treatment program that individualizes each patient. Known as precision medicine, this treatment approach for brain cancer involves identifying the molecular and genomic signature of each cancer in order to identify appropriate therapeutic options, allowing doctors to tailor treatment to patients' biological characteristics. Models of the disease are used to test that particular cancer's response to various existing and developing therapeutics, allowing for guided individualized patient treatment. This approach will ensure that each patient is treated with the appropriate existing therapy and that emerging therapeutics can be rapidly and efficiently developed. The Next Generation Brain Cancer Treatment program represents a breakthrough in the evolution of brain cancer treatment.
About the TARGiT Program
TARGiT is an innovative research program led by Dr. Kevin Petrecca, Chief of Neurosurgery at the Montreal Neurological Institute and Hospital – The Neuro. This program aims at identifying novel molecules that can be targeted to prevent brain cancer invasion. By using a new therapeutic technology, the TARGiT team has proven that cells that were treated "in vitro" showed much less invasion into the brain as compared with control cells. In as quickly as two years Dr. Petrecca and the TARGiT team firmly believe to be able to use this technique to improve patient outcomes.
The Montreal Neurological Institute and Hospital
The Montreal Neurological Institute and Hospital – The Neuro is a world-leading destination for brain research and advanced patient care. Since its founding in 1934 by renowned neurosurgeon Dr. Wilder Penfield, The Neuro has grown to be the largest specialized neuroscience research and clinical centre in Canada, and one of the largest in the world. The seamless integration of research, patient care, and training of the world's top minds make The Neuro uniquely positioned to have a significant impact on the understanding and treatment of nervous system disorders. The Montreal Neurological Institute is a McGill University research and teaching institute. The Montreal Neurological Hospital is part of the Neuroscience Mission of the McGill University Health Centre. For more information, please visit www.theneuro.ca 
-30 - 
Maya-Olivia Eyssen
Agente des Communications
Communications Officer
Institut et hôpital neurologiques de Montréal
Montreal Neurological Institute and Hospital
3801, rue University
Montréal (Québec) H3A 2B4