Looking forward to heading home
Hello,
My name is Patrice Côté and I am the father of a very brave little boy named Jérémie Ward-Côté. Jérémie lives in Bertrand, near Caraquet, in northern New Brunswick.
Jérémie hadn't even celebrated his third birthday when, in early July 2014, within the span of a few days, he was transferred to Bathurst Chaleur Regional Hospital to the CHUL de Québec, then to the Montreal Children's Hospital. Tests showed that Jérémie had a cancerous brain tumour that had spread throughout his spinal cord.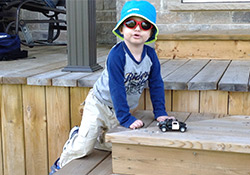 Upon arriving at the Children's, his spinal cord was so compressed that he had lost the use of his legs. This was the beginning of a long struggle that resulted in six cycles of chemotherapy, 38 radiation treatments, three stem cell transplants, more than a hundred blood transfusions and countless physiotherapy sessions. On March 5th, almost eight months to the day after arriving at Children's, Jérémie completed his treatment protocol. He was later transferred to the CHUL de Québec to be closer to his paternal grandparents, godfather and godmother while he continued his recovery.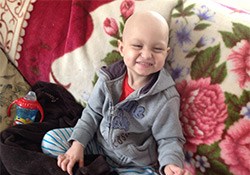 Since he returned to New Brunswick with his parents in late April, Jérémie has been doing relatively well. He was happy to be reunited with his two cats and to see his playroom, and he loves going to the municipal library and the grocery store with his parents. His cancer has not come back, but he has had a few setbacks and still has some difficulty walking.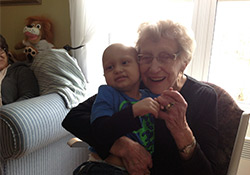 We often think of our many friends at the Children's, be they doctors, nurses or patients. Despite the distance, we keep up to date through social media with the struggles of the families we became friends with during our time at the Children's.
The Ward-Côté family would like to thank the greater Children's family, and especially Dr. Jeffrey Atkinson, Dr. Adam Flemming, Dr. Carolyn Freeman, Dr. David Mitchell, Dr. Genevieve Legault and Dr. Jabado; medical residents Catherine Goudie, Janie Charlebois and Amit Dotan; nurses Julie Brouillard, Line Mainville et Dolores Suarez; physiotherapist Melissa Turner; driver Tony Zisimopoulos; Child Life Specialists Bertrand, Anna and Helen; Laura Johnston, our social worker; nutritionist Chantal David; as well as the staff members in the departments of anesthesia and respiratory therapy, on the 8D and 7C units in the recovery room and the Hematology-Oncology Day Centre. Words cannot express our gratitude. You will forever occupy a very special place in our hearts.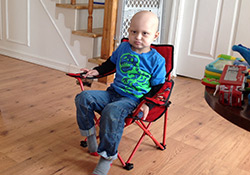 Patrice Côté