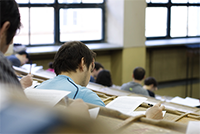 For more information please refer to the training program webpages on the McGill University website.
McGill University offers a 3-year combined specialty residency training program in Infectious Diseases and Medical Microbiology. The training program is accredited by the Royal College of Physicians and Surgeons of Canada. 
The Division of Infectious Diseases at the MUHC, in partnership with the McGill University affiliated teaching sites at the Jewish General Hospital and Saint Mary's Hospital, also oversees training of residents from other programs at McGill. The MUHC expertise in transplant, tropical medicine, chronic viral infections, mycology, and mycobacteriology/tuberculosis contribute to the diverse and rich clinical exposure that residents can expect and which also benefit trainees from other programs from medical schools across Quebec and Canada. We also provide training in infection control and antibiotic stewardship to residents, pharmacists, nurses and public health fellows.
As a hub of microbiology laboratory testing within the provincial network of laboratories, and being committed to quality laboratory services and cutting edge diagnostics, the MUHC provides an ideal environment for the development of the Infectious Disease specialists and Medical Microbiologists of tomorrow.
Please note that the Division of Infectious Diseases does not offer Clinical Observerships at this time.