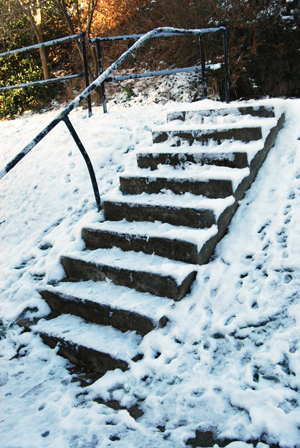 From the moment we learn to walk, we're at risk of falling. And although many falls lead to no harm, others can result in serious incapacity, long periods of hospitalization, chronic pain and even death. That's why it's important to look at the risks seriously and take all necessary precautions, especially as we get older and our bones become more brittle.
Various factors can play a part:
age
state of health (e.g., arthritis, osteoporosis, Parkinson's disease)
weakness in the legs
loss of balance
lack of suppleness
vision problems
certain medications
poor lighting
blocked access
unstable furniture and accessories
A few simple precautions can reduce the risk of falling:
know your limits
wear shoes with anti-slip soles
use a cane or walker if you're shaky on your feet or have balance problems
take care of your general state of health, particularly your feet
eat regularly to avoid getting weak or dizzy
see your doctor if you suffer from dizziness
do exercises to improve your muscular strength, suppleness
and balance
wait a few minutes before getting out of bed in the morning
be aware of the side-effects of any medications you take
At home, take every precaution to reduce the risk of falling, for you and the entire family.
Outside
Install an efficient lighting system
In all seasons, keep steps and pathways well swept and clear of hazards (for example, snow in winter, leaves in fall)
In winter, spread some sand or salt on potentially slippery areas
Always put tools and toys away after use; don't leave anything lying on the ground 
On steps and stairs
Ensure they're well lit
Install solid handrails on both sides
Whenever you use the stairs, remember to wear your glasses (you could miss your footing if you can't see well)
Don't rush; take it one step at a time
Inside
Arrange cables, wires, extension cords and all other objects close to the walls – not under your feet
Choose anti-slip, short-pile carpets
Avoid clutter
Install nightlights that come on automatically
In the bathroom
Install handrails
If needed, add a raised toilet seat
Install nightlights that come on automatically
Place regularly-used items within easy reach
In the kitchen
Store heavy articles in the lower cabinets
Place regularly-used items on shelves you can easily reach
If you need to take something off a high shelf, use a stable step-ladder equipped with handrails
Immediately wipe up any liquid spilt on the floor