Our trauma program has five pillars: enhancing patient care, educating and training future healthcare leaders, advancing research, collaborating with partners to influence health policies, and advocating for injury prevention.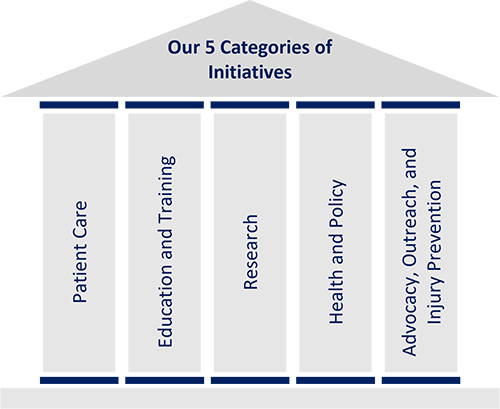 Patient care
We deliver high-quality care to trauma patients through a skilled team, cutting-edge technologies, advanced facilities, and placing the patient's quality of life and needs – and those of the loved ones – at the heart of all decisions made, from initial resuscitation to full rehabilitation.
Education and training
As a tertiary trauma centre, we feel strongly about our role in education and training the next generation of leaders in trauma care. Teaching and learning are central to our mission, values and aspirations. The role of trauma education is vital in training adequately prepared trauma personnel. The following courses are offered several times per year:
Advanced Trauma Life Support (ATLS)
Rural Trauma Team Development Course (RTTDC)
Definitive Surgical Trauma Care (DSTC)  
Trauma Nurse Core Course (TNCC)
Simulated Trauma and Resuscitation Team Training (STARTT)  
Advanced Surgical Skills for Exposure in Trauma (ASSET) 
Trauma and Disaster Team Response (TDTR) 
For more information on our courses, please contact us at [email protected]. Learn more about each course.
Research
Our research program includes projects led by students and staff working to identify ways to improve patient care through system improvements and clinical improvements.
If you are a student or researcher who would like to collaborate on trauma research, please contact us: [email protected]. If you would like more information on our international research initiatives, click learn more.
Health and policy
The trauma team participates in various committees and systematic research and collaborates with partners in the pre-hospital, hospital and rehabilitation sectors and the Ministry of Health and Social Services. 
Advocacy, outreach and injury prevention 
One of our mandates is to raise public awareness about the importance of preventing mishaps and injuries. Prevention can save your life. In Quebec alone, traumas lead to nearly 4,000 deaths and 10,000 disabilities each year.  
We are fully committed to promoting prevention through: 
Collaboration with rescue services 
Presentations in secondary schools and CEGEPs 
Workshops for teens and young adults 
Talks in community centres and senior residences  
Public advocacy
Most unintentional injuries are preventable. The aim of our injury prevention program is to give you information to keep you out of our trauma centre. Our injury prevention program, Code Trauma has a dedicated website with resources, including: 
Road Safety Ambassador Program 
Crash Simulation 
Crash Course in Trauma 
Stop the Bleed 
Think with your Helmet 
Alcohol and Trauma 
Fall Prevention for Seniors 
For more information, visit https://www.codetrauma.com or email us at [email protected]