Encouraging breastfeeding a societal effort, study says
By Julie Robert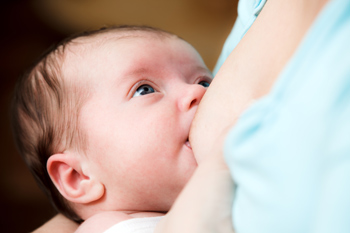 "Breastfeeding support is not only a health professional issue, it is a societal effort", argues Sonia Semenic, Nurse Scientist at the McGill University Health Centre and co-principal investigator of a research project assessing breastfeeding policy guidelines in Quebec. The report, recently released by the Fonds québécois de la recherche sur la société et la culture (FQRSC), highlights, among other things the important role society needs to play in welcoming and supporting mothers to breastfeed outside of their homes.
"What's essential and missing in many places in Quebec is, quite simply, societal support for breastfeeding, especially for women living in rural areas where breastfeeding rates are typically lower and mothers may be less empowered to face the negative reactions of others." says Semenic, who is also an Assistant Professor in McGill University's School of Nursing. "There is still a significant stigma in Quebec that is attached to breastfeeding in public; many breastfeeding mothers feel isolated and do not always feel they have support from their social milieu."
One objective of the report was to evaluate the implementation of the Baby Friendly Initiative (BFI) across the province. The BFI is a multi-component, worldwide program organized by the World Health Organization and UNICEF that aims to transform health services so optimal breastfeeding support can be provided to mothers and babies. Semenic and her co-researchers interviewed 214 health care decision-makers, administrators, perinatal care providers and breastfeeding mothers. Their focus was on barriers and facilitators to implementing breastfeeding support practices in different health care contexts through Quebec.
By comparing hospitals and CLSCs with different levels of implementation of the BFI, researchers found that those with dedicated resources to the program had the highest levels of breastfeeding support.. "One of the key elements to success in implementing the BFI involves prioritizing breastfeeding as a clinical issue, and dedicating the financial and human resources needed to ensure the program can be properly supported," said Semenic.
Semenic highlights that although the government has put a lot of effort into promoting breastfeeding as the optimal way to provide nourishment to infants, it has not necessarily followed up with the health care system resources needed to provide continued support to mothers who want to breastfeed. 
"What we see is that a lot of women who initiated breastfeeding and were not successful, feel guilty because they have received the message that breastfeeding is the best option," Semenic explained. "If we put so much effort into promoting breastfeeding, we have to make sure mothers who start to breastfeed get the support they need from both health professionals and society; otherwise, we are going to end up with a lot of mothers who may feel terrible about their breastfeeding experience."
According to Semenic, the health benefits of breastfeeding are numerous and well established. However, she suggests we need more research on the perception mothers have of breastfeeding and breastfeeding support. "We need to hear mother's voices in the decision-making process for breastfeeding-related issues in Quebec". 
For the full report : « L'évaluation de la mise en oeuvre des lignes directrices en allaitement maternel au Québec »