BREASTFEEDING WEEK October 1-7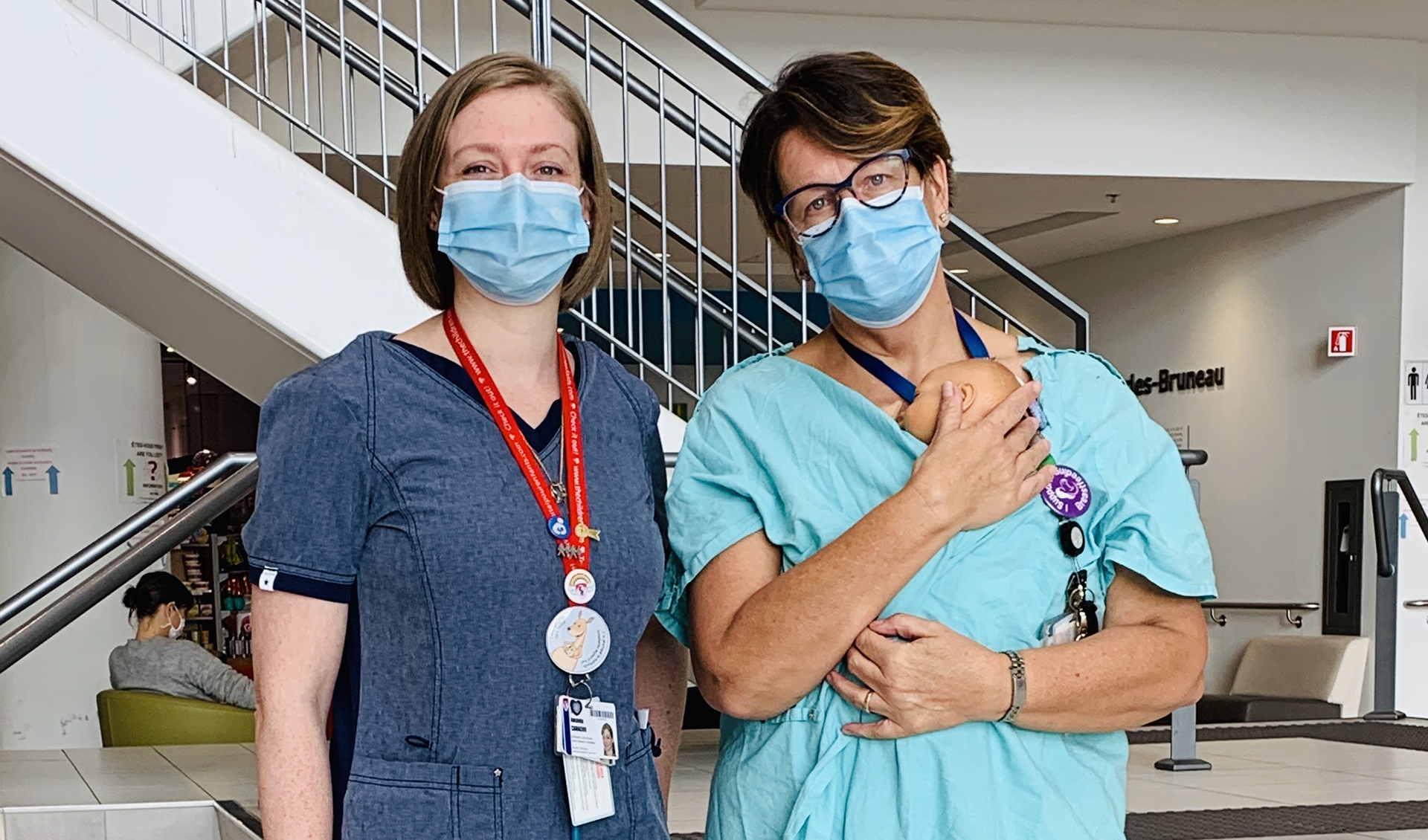 The first week of October marks the 40th week of the year, and symbolically, the length of a normal term gestation. For this reason, October 1st launches National Breastfeeding Week in Canada, a great time to remind parents that breastfeeding usually starts with skin to skin care immediately after birth and should continue in the first weeks of life. At the McGill University Health Centre (MUHC), our support starts during pregnancy through monthly bilingual virtual information sessions about the evidence-based practice of breastfeeding. These sessions share practical advice on how to prepare, what to expect in the first days after birth, and the significant role that breastfeeding plays. Mothers are encouraged to invite someone to attend these sessions with them, whether it be their partner, their mother, their sister, or anyone else they can turn to for support during their breastfeeding journey.
Interested? Register today at [email protected].
Skin to skin and Kangaroo care
Uninterrupted skin to skin contact is a soothing bonding activity that is encouraged as a gold standard of care immediately after  birth in the Birthing Centre, throughout mother and baby's hospital stay together on the maternity unit, to be continued as often as possible once at home. It supports normal breastfeeding in various ways, such as easing baby's transition into their new environment and helping mom and baby learn how to breastfeed.
Skin to skin care is also known as Kangaroo care [KC] because it mimics the protection and comfort of a kangaroo pouch.  All parents and infants alike benefit from skin to skin/Kangaroo care, namely because it protects neurons, reduces pain, enhances immunity, relieves stress, and increases breastmilk production.
In cases where babies must be separated for special care, such as when they are born early and admitted to the NICU, skin to skin care is strongly championed as the only way to help optimize the survival and health of these little miracles. During Breastfeeding week, NICU's worldwide including our very own promote the positive power of touch by hosting a Kangaroo-a-thon. Their goal?  To encourage parents to ideally reach 3 hours of skin-to-skin contact with their hospitalized baby per day!
If you are expecting or would just like more information, please see the video below. If you have an appointment at the Glen site, be sure to stop by the Breastfeeding Week Booth on C6, just outside the elevators. Talk with an experienced lactation consultant and participate in fun breastfeeding raffles and activities.