We miss them. Everybody wants them back.
From spontaneous rounds of bingo to catching up over cookies and coffee, Franco Di Vita recalls the special people who've made three years of dialysis treatments at the Lachine Hospital a bit easier: volunteers, whose signature blue smocks make them recognizable across all sites of the McGill University Health Centre (MUHC).  
In March 2020, Franco, like many of us, made the disheartening discovery that the world had been brought to an unprecedented social standstill. He would have to face treatment without the hope of a special visit from a caring volunteer. 
"It's been difficult," he says. "Nurses are hard at work and can't afford to stop what they're doing. The volunteers, they were the ones who had time to sit and talk." 
Now, after three long months, the MUHC is proud to announce a first phase of re-integration of our beloved volunteers. 
"We've missed them dearly!" exclaims Louise-Anna Regnaud, coordinator at the Office of Expertise in Measuring Patient Experience and Patient Partnership Program. With sensitivity toward patients' needs and rights, Louise-Anna believed in the importance of bringing volunteers back to the MUHC. 
"When you feel good in your heart, you are able to feel better in your body," she says. 
Absence makes the heart grow fonder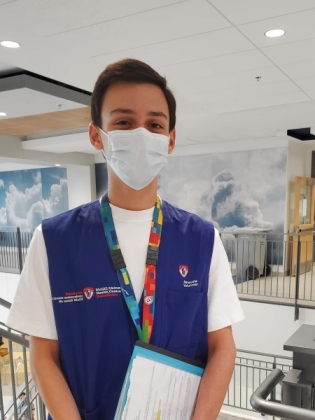 About 30 volunteers returned to the Glen site and the Montreal General Hospital (MGH) in early July to help with wayfinding. For Emily Bottone, a bright Health Science student at Dawson College who dedicates 16 hours each week to volunteering, wayfinding was a new challenge. 
"Before the pandemic, I helped with book and comfort carts as well as meal assistance," she says. "Now, all volunteers are helping with wayfinding. We've each been given an extensive list of all the clinics, kind of like a cheat sheet!" she chuckles. "The MUHC Infection Prevention and Control team hosted a special information session for us. I feel very safe and I'm happy to be back." 
Theodore Butskhrikidze, an honours Health Science student at Marianopolis College and MUHC volunteer for almost two years, adds that volunteering is a privilege. 
"We're not only here to perform tasks. We're here as friends, even family."
Before the pandemic, Theodore spent Friday evenings at the Lachine Dialysis unit, where he bonded with many patients, including someone who opened up about a heartbreaking personal story. 
"That really meant a lot to me," Theodore recalls. "I've missed talking to patients and I'm so grateful to be back. I love hearing their stories. It's the trust that we get to build with patients that makes volunteering at a hospital so rewarding."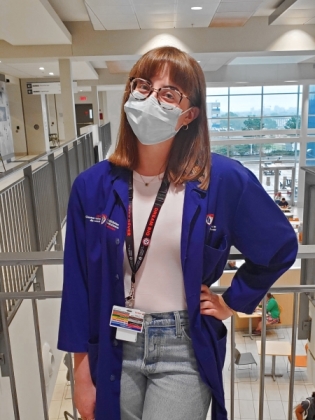 Emily reminisces fondly of a woman she often saw in the waiting room of a clinic at the Royal Victoria Hospital. 
"She always asked for colouring materials. I used to love our conversations!" 
Recalling these tender moments reminds Emily of the warm sense of belonging she feels as a volunteer. 
"I often get this feeling deep inside...'this is exactly where I need to be.'" 
The future of volunteering 
Under normal circumstances the MUHC is home to over 1,000 volunteers across all sites. Each has been dearly missed, not just by patients, but staff too. 
"I started getting emails from different staff members the very first day volunteers returned," says Colleen Timm, assistant to the director of Multidisciplinary Services, Adult sites. "Seeing blue smocks around the hospital again has been a huge boost to morale." 
Working closely with the Patient Partnership Program and Infection Control teams, the MUHC looks forward to welcoming more volunteers back in the future. To those who've already stepped out to lend a helping hand, thank you - you are the reason for our smiles!