The Mental Health Mission: Overcoming the challenges of providing and receiving services during the pandemic
Since the first day of the pandemic, the MUHC's Mental Health Mission has been one of the few to maintain its activities at the same pace as the previous year, and the credit goes in part to our patients.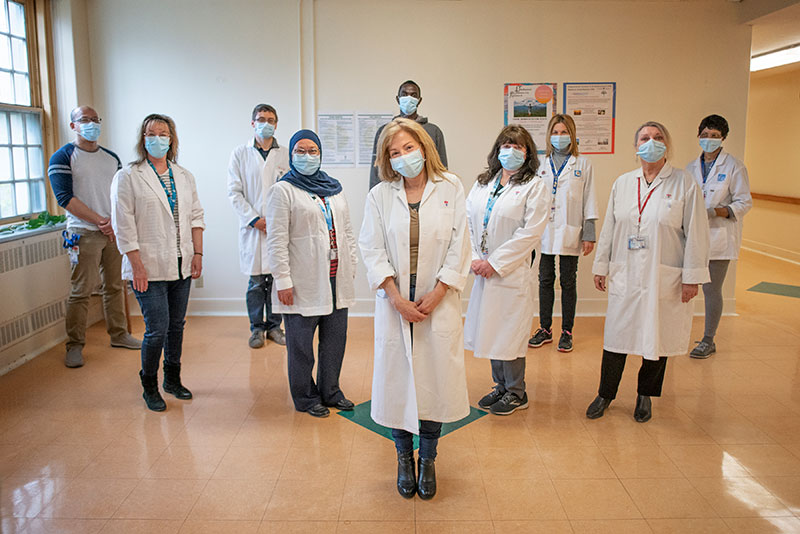 "When the pandemic first started, there was worry that patients would stop seeking treatment for fear of contracting the virus or adjusting to changes," says Maryse Godin, clinico-administrative coordinator of our Mental Health Mission and Emergency Department. "We were pleased to see that our patients in Mental Health were willing to try something new and they were able to stay connected through video-chat or a telephone call."
Maryse and her team were extremely impressed by patients who surpassed technological and literacy challenges, and cognitive limitations, which can make it harder to follow instructions. Since telehealth has proved to be successful, it is here to stay as an option for patients.
"We figured out which patients were better suited for telehealth, and for those people, it has worked really well," she says. "We still see some patients in person, too, and they have followed infection prevention and control measures to a tee."
Maryse also credits the department's success to her outpatient team. Led by Dr. Allan Fielding, director of outpatient Psychiatry, the inter-professional teams pivoted to telehealth even before the government told them to, and by early April 2020, they were equipped with webcams and had familiarized themselves with the technology.
The pandemic's impact on mental health
Our mental health experts note that an influx of referrals usually occurred about 2-3 weeks after each COVID wave, with more people seeking help after and not during the peak in the number of cases.
"Studies all over the world are looking into mental health trends in relation to the pandemic, and in the coming years we're going to have a lot of insightful literature," says Maryse. "Right now, I think the most important thing to gauge from any observed trend is the fact that people are seeking help. People are opening up about feelings and experiences they had even before the pandemic, and that is a huge positive."
Pandemic or not, Maryse says that taking care of your mental health can mean the difference between getting your life back on track or sinking further.
"If you don't want to develop chronic issues; if you want your life to get back on track, seek help."
Where do I start?
If you think you need help or that a loved one does, your local CLSC has a Mental Health Access Desk – a first-line mental health service that orients people with mild-to-moderate or severe mental health issues to the right service. You don't need to have a family doctor or be diagnosed with a mental disorder to access these services; you just need to present with symptoms.
For help during a more severe crisis, you should go to a hospital's Emergency Department, which is equipped to help you through.
Here at the MUHC, we have special services for our healthcare workers, including the MUHC Cares hotline. This hotline, which is run by MUHC professionals on a volunteer basis, was started during the pandemic to help healthcare workers connect with each other. It's a way to talk to someone else who understands what it's like to work in healthcare during a pandemic. And of course, our Employee Assistance Program is available to all employees.
"For lots of people, calling someone who understands your reality is enough," says Maryse. "We can be surprised by how much better we feel once we talk to someone else about the things weighing on our minds and our hearts."