National Volunteer week: a time to say thank you!
Volunteers make a real difference in the lives of our patients, families and staff 
"Did you know that we have 1,500 volunteers who devote their time and energy to helping out in our hospitals?" asks Rita Giulione, Manager, Volunteer Services, MUHC Adult sites. "Our volunteers greet patients and help them with directions, hold patients' hands to comfort them, and so much more. Our volunteer program is a great MUHC tradition that adapts to changing needs, even in these difficult times."
"What I enjoy most about my volunteer work is the feeling I get when someone is grateful for the assistance I've given them," says long-time volunteer Victor Francisco, 55 years old and former Security Administrator at Concordia University. Victor volunteers at the E.N.T. (Ear, Nose and Throat) and orthopedics clinics, performing various clerical duties and working the information desk. He also helps with in-patient visitor registration and wayfinding.
 "A visit to a hospital is not necessarily a happy occasion. Some patients are nervous about a test they're about to take; some are lost, and overwhelmed walking into a place as large as the Montreal General Hospital. I have seen people brought to tears of gratitude because a volunteer took the time to show them how to get from A to B."
"Victor is a fantastic volunteer," says Rita. "He treats everybody with respect and genuine affection. Patients and staff love him! He truly is a model for us and loves to give a hand to our newcomers, like Thomas for example, who arrived at the MGH at a very difficult period."
Thomas Christinck, a 24-year-old student, started volunteering at the MGH last September. "I do lots of things - help patients find their way to appointments, make transportation arrangements, and help make things run more smoothly at the blood clinic by making sure that patients have all the information they need before their appointment," he says. "I feel that I need to help people in any way I can. I like that no two days are the same - even at the same location in the hospital, new situations always come up, especially with COVID-19. Volunteering at the hospital has opened my eyes to the diversity of the community and how many people rely on the healthcare system every day. I feel very fortunate to be a volunteer during such an unusual and challenging time. I realize how important it is to take care of each other, and I'm amazed by the positive interactions I have. People can be really nice and grateful for your help, even if what you're doing is very small."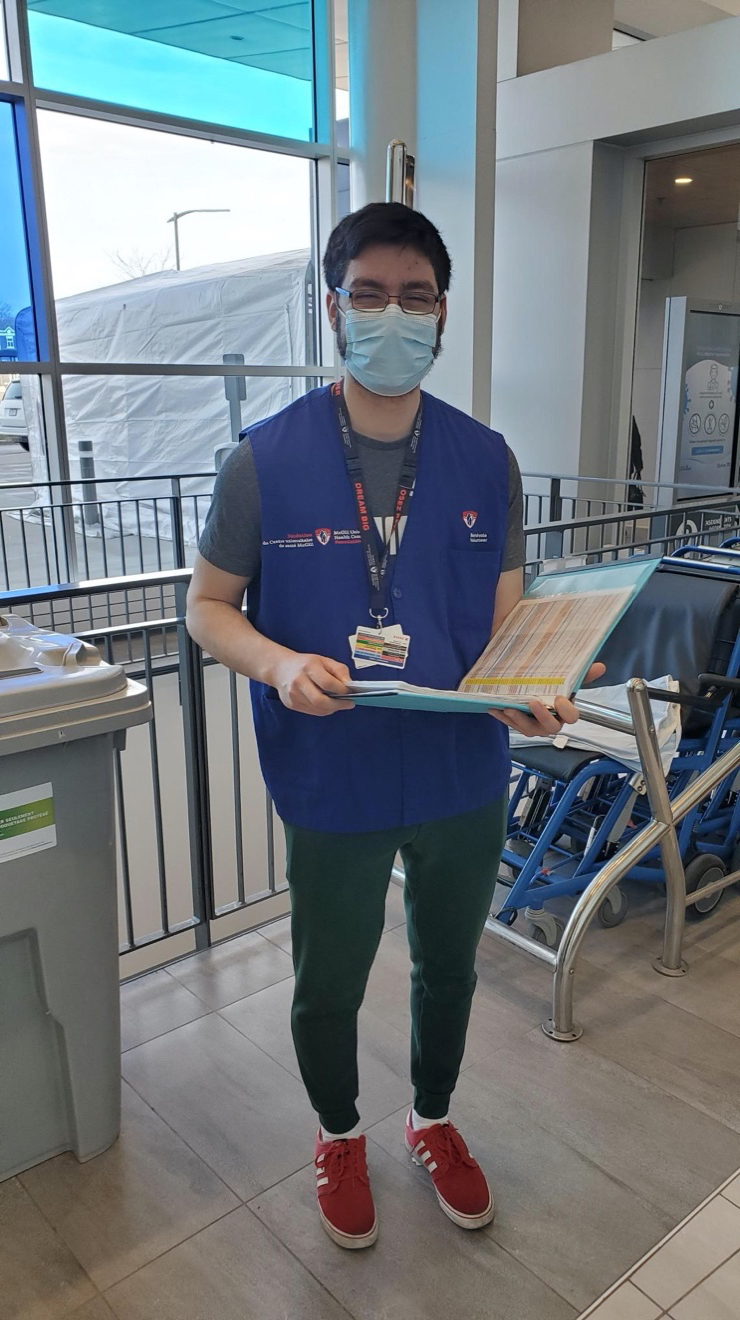 David Cruz is another young student who decided to volunteer last October at the Glen site. This 21-year-old loves the ambiance on site: "Everyone I work with, from security guards, to nurses, and administration teams, take so much pride in what they do. They're always there to help."
As a wayfinder, David's role is to greet patients and visitors as they arrive and guide them around the hospital. "At first, I was anxious about going to see people and offer help. I would hold back and just wait until they asked me - but now, I jump ahead and offer my help. It feels gratifying to be able to make a difference."
David recalls a time when a man from Columbia came to the hospital and could not speak French or English. "Luckily, I speak Spanish, so I was able to help him out. I stayed with him as we were waiting for his appointment. He told me about his situation, his move to Quebec, his family. I did my best to just listen. When he left, he showed his appreciation and told me how great he felt. It was very moving for me."
Bahareh Sadeghi, who completed a master's degree in business administration and recently finished prerequisites for medical school, has been volunteering as a wayfinder at the Glen site since September 2020. "Sometimes I encounter people who are anxious, and so when they reach out to us for help, they don't really listen," says Bahareh. "I help them feel more calm. For me, it's a challenge that's well worth the time and energy, with smiles and peacefulness as a result–which is priceless!"
"Bahareh is a wonderful volunteer, caring an empathetic", says Rita. "She is always looking to help anywhere she is needed. We are extremely happy and very lucky to have her on our team."
Since February 2021, Bahareh has been helping out in our COVID-19 vaccination clinic, and like all volunteers, Bahareh values her experiences: "Each day is unique. I try to put myself in the position of patients or visitors and try to imagine what they are going through; what they're feeling. We cannot judge others by observable behaviours alone. There are numerous other factors that play a hidden role. I am thankful for volunteering as it helps me have a stronger relationship with patients, and gives me a beautiful feeling of being helpful to people and society."