MUHC laundry services roll up their sleeves in the fight against COVID-19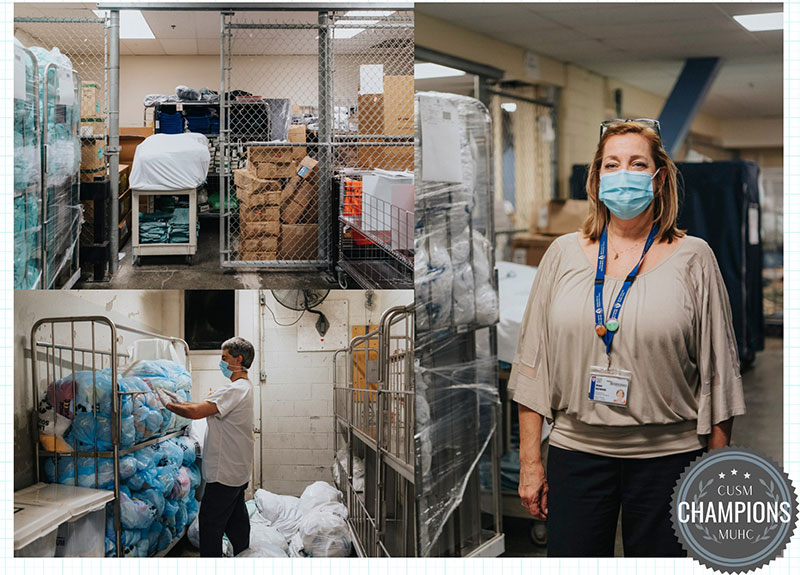 Nestled in the basement of the hospital, laundry services are responsible for washing all reusable sheets, curtains, uniforms, gowns, and scrubs. To the untrained eye, the mounds of linens look the same, but the service is run like a tight ship, separating the dirty from the clean, the incoming from the outgoing and using colour coding, laundry chutes and carts to organize and distribute laundry. The Covid-19 pandemic brought new challenges to this specialized service, and like Champions, the McGill University Health Centre (MUHC) team met them head on.
One of the greatest changes in laundry services was the increase in the number of scrubs and reusable gowns to process. For infection control purposes, all staff on the COVID-19 units and in critical care areas were required to wear scrubs offered by the hospital instead of their own. This increased the number of scrubs to be washed threefold.
"Once the additional scrubs were purchased, we were responsible for disinfecting and distributing them," says Diane Raymond, MUHC Laundry service manager. Because time was of the essence, the scrubs came from three different suppliers, meaning colours and styles were different. The laundry team had to sort the sets according to supplier, colour and size so that tops paired with bottoms each time they came back from the wash. In addition, the team spent hours on end stamping the new tops and bottoms with individual identifying codes and the MUHC logo. 
Rethinking the process
Due to the worldwide shortage of Personal Protective Equipment (PPE), the hospital had to switch from disposable gowns to reusable ones, so laundry services had the added responsibility of ensuring the reusable gowns were cleaned and distributed. To adapt to the new demands, the service had to rethink its procedures, which required some trial and error. For instance, the new and reusable gowns were made of a material that could not withstand the rigorous washing process, so the team had to work with the MUHC purchasing department to adjust accordingly. 
Another challenge was distributing the scrubs to staff. "We had to ensure each person got only two sets of scrubs per day so that there would be enough for everyone," says Diane. This meant reprogramming the ScrubX machines and understanding the habits of users. The staff had to get accustomed to the new styles that fit slightly differently from what they were used to.
Diane is proud of the way in which laundry services championed these challenges. "I work with the best team of people," she says. "They worked very hard at the beginning of the pandemic and continue to do so to ensure the staff and patients have the linens, gowns, scrubs and uniforms they need."