Wearing a mask is mandatory at the MUHC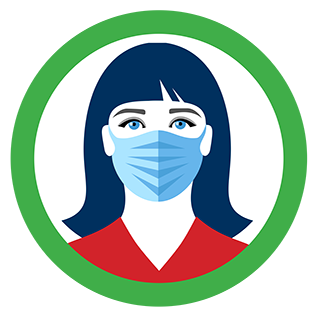 Reminder to all patients and visitors: Wearing a mask is mandatory at the MUHC
Since July 18, 2020, wearing a mask is mandatory in all indoor public spaces across Quebec. 
Wearing a mask is therefore mandatory on all MUHC sites including hospitals, long-term care facilities and all administrative buildings. 
There are certain exceptions notably for:
health-care employees who are completely behind Plexiglass coverings in certain clinical areas,
or while eating and drinking if you can respect the 2 metre distance from others,
Wearing a mask is obligatory throughout the day in all locations, including public spaces, elevators, and hallways. It should cover your nose, mouth and chin at all times and should not have a valve.
Mask wearing, physical distancing, and hand washing remain key in preventing the spread of COVID-19
Thank you for your co-operation.
Visits
COVID-19 testing centre
For information on the COVID-19 testing clinic click here
Restricted hospital entrances
In order to provide a safe environment for patients and staff, patients should at the entrances listed below:
Glen site
Adult (Bloc C/Bloc D): S1 and RC (ground floor) entrances
Montreal Children's Hospital (Bloc A/Bloc B): S1 and RC (ground floor) entrances
Cedars Cancer Centre entrance
Adult and Pediatric Emergency Department entrances on S1 level (for emergencies only)
Montreal General Hospital
Cedar Avenue entrance
Parking entrance
Livingston entrance on Cedar Avenue (L6) is reserved for dialysis patients only
Emergency Department entrance (for emergencies only)
Lachine Hospital
External modular units on 16th Avenue
The Neuro
Main entrance 3801 University
Reduced mobility entrance beside the main entrance
You have an appointment or a treatment scheduled?