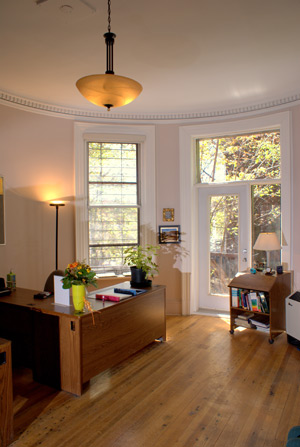 In 1971 a clinic was set up by the "Office pour le Traitement de l'Alcoolisme et des autres Toxicomanies" (OPTAT) to provide services for the English-speaking community in Greater Montreal. The clinic was located in Pointe-St-Charles and was staffed by a general practitioner, a nurse, a social worker and a secretary.
In 1973 the clinic was repatriated to the Montreal General Hospital under the direction of the Psychiatry Department. Dr. Travis Dancey was the first head psychiatrist of the Alcoholism Unit in 1973. Dr. Graeme Low took over from 1974 to 1979. 
Dr. Juan Carlos Negrete M.D. FRCP(C) became Director of the Addictions Unit in 1979. In 1992, the unit's budget expanded and it moved to 1604 Pine Avenue. It was named the Griffith Edwards House (after Professor Griffith Edwards of the National Addiction Center at the Maudsley Hospital in London, England). From its inception, the focus of the Unit was to provide comprehensive care of addiction and concurrent mental health problems.
In 1996, Dr. Negrete stepped down as Director when he was asked to start a similar program in Toronto. At this time, the direction was divided into a multiple leadership structure with a Medical Director, a Clinical Director and a Research Director. Dr. Negrete has remained on staff as an active practitioner and educational consultant.
In 2007, the Unit moved to its current location, 1547 Pine Avenue West, and is known as the Addictions Unit, Griffith Edwards Centre. It is now part of McGill University Health Centre (MUHC), under the administration of the Department of Psychiatry. 
Over the years, the Addictions Unit has grown and is recognized as a leader in the treatment of addiction and concurrent psychiatric conditions.