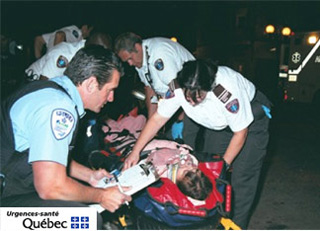 Photo courtesy of Urgences-santé Québec
In most cases the people who suffer trauma are young and healthy, making the situation even more tragic. 
Classifying traumas by category reveals the following average ages of victims:
persons injured by an attacker: 36 years old
motor vehicle collision victims: 43 years old
persons suffering falls: 64 years old
With the increasing likelihood of people living past the age of 80, it's easy to see why trauma specialists put so much effort into saving patients and helping them return to their family and working lives. Every possible measure is taken to act as quickly as possible to reduce the risk of death or permanent disability.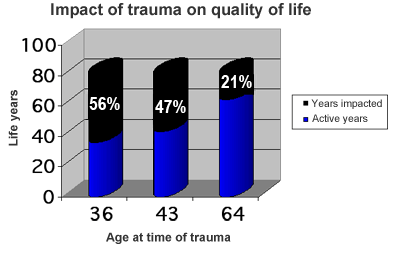 Taking the average life expectancy to be 81.3 years* in Canada, here is the impact of a serious trauma on the quality of life, expressed in disability-adjusted life years (DALY). 
At 36, more than half (56%) of the person's life is affected.

A fall at age 64 can mean more than 15 years (21%) of serious disability at a time when a person could reasonably expect a comfortable quality of life.
The percentages indicate the portion of life lost to a disability resulting from a serious trauma.
* Source : Population DataNet 2010, consulted online November 23, 2010 at http://www.populationdata.net
Other victims who should not be forgotten
Trauma does not just affect the injured person. Everyone close to that person also experiences the shock: the parents who fear for their child's life, the best friend who has witnessed the tragedy, the colleague who administered first aid, the spouse who worries what will happen to the family. 
Every member of the Montreal General Hospital's trauma team understands that this suffering is also important and requires support. The clinical staff will do everything in their power to keep the family informed about the patient's progress; social workers will suggest possible resources; volunteers will be compassionate listeners in trying to reduce the pain and anxiety.
All this support continues until the patients return to the security of their family.