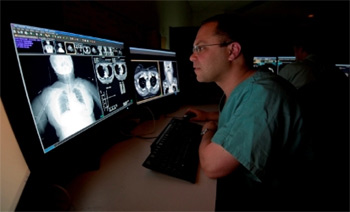 A trauma is any physical injury suffered by an individual, whether unintentionally or not, resulting in a shock, blow or pressure... for example, following a motor vehicle collision, a fall, burns, knife wound, explosion, etc.
This is a serious injury capable of endangering the victim's life and requiring a rapid response. 
In general, a trauma occurs without warning. No one is immune. That's why it is so important to do everything possible by way of prevention.
Trauma is measured according to the severity of the injury on an ISS index (Injury Severity Score). The ISS is calculated taking into account numerous criteria and the different injuries suffered by the victim; values range from 0 to 75. A score higher than 15 requires tertiary, highly specialized trauma care. The Montreal General Hospital treats so many such cases that it is regarded as a "high volume, high acuity" centre in Canada.

Did you say "accident"?
Researchers estimate that 90% of unintentional injuries are predictable and preventable.
Prevention means avoiding being injured...
by accident!
Traumatic injuries are the leading cause of disability and mortality in people under 49 years old. 
The life-years lost or spent disabled that follow may count for more than half the lifetime of these victims.