Ready to save lives: Dawson College 2006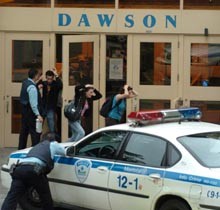 The date was September 13, 2006.  The waiting room at the Montreal General Hospital emergency department was crowded, some 40 people lying on stretchers. In the trauma area, a cyclist hit by a car was being treated, as well as a man who had suffered a bad fall.
That was when the call from Urgences-santé came in.
"There's been a shooting at Dawson College. Three patients right now. We may have five more. How many can you take?"
"Bring as many as necessary."
It was 12:57 pm. The most important trauma action plan in the history of the Montreal General Hospital was about to swing into action.
1:02 pm. The first victim arrives – a young man aged 22 with two serious head wounds. 
1:06 pm. An 18-year-old student follows, wounded in the shoulder and kidney.
1:12 pm. Another teenager is brought in with wounds to the forearm and hip.
An "orange code" alert is declared, the highest level for an external disaster. And now a highly orchestrated team effort begins. All on-call trauma doctors and other available personnel immediately rush to the resuscitation area. Dr. Bruno Bernardin is the trauma team leader that day.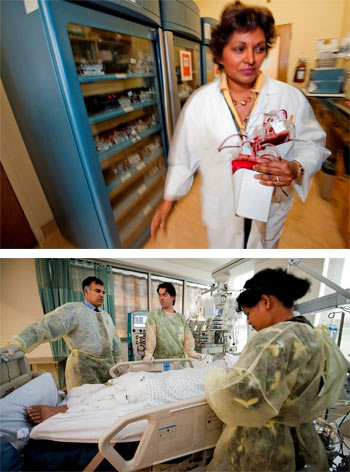 1:25 to 1:43 pm. Seven other students and a 47 year-old-male are brought to the hospital. In the space of 45 minutes, eleven victims are received at the Montreal General Hospital's trauma area. Nursing assistants wait at the door, ready to replace equipment when necessary; a maintenance worker spreads a sheet on the floor to soak up the blood; nurses are busy installing intravenous drips and sponging wounds; doctors quickly take x-rays and examine the wounded; the team leader sets priorities; critical care specialists, assisted by nurses, respiratory therapists and resident surgeons, treat the victims, stabilizing lesions, extracting bullets, stanching the bleeding. In operating rooms and the intensive care unit, everything is being set up to quickly take over. In all, some 85 hospital employees will play a part in supporting the eleven shooting victims.
Around 3 p.m., barely two hours after the start of the drama, the situation is fully under control. When the Trauma Program's Medical Director, Dr. Tarek Razek, and Dr. Bruno Bernardin congratulate the team for a job well done, loud applause breaks out in the emergency unit.