A critical time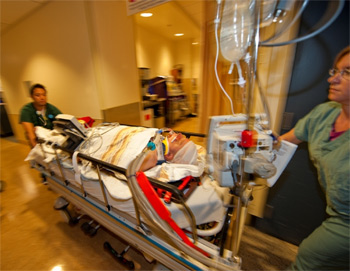 An expression commonly used in emergency medicine, "The Golden Hour" underlines the importance of acting promptly and rigorously when a trauma occurs.  At the accident site, someone needs to dial 911 quickly, giving precise information, so that help can be dispatched speedily. At the trauma centre, a full team must be on alert, ready to roll into action at a moment's notice.
The Golden Hour is therefore a general concept aimed at optimizing the chances of a seriously injured person surviving the trauma or avoiding a severe disability. The patient is moved into a highly structured environment governed by the strictest rules of efficiency, where everything is aimed at procuring many more years of life for the victim.
Being highly organized… leaving nothing to chance… standing by on a 24/7/365 basis… these are the watchwords of the Montreal General Hospital's Trauma Program.
Fully staffed teams of healthcare professionals from various disciplines are on duty to cover all cases, every hour and every day of the year, including holidays. Regardless of the hour of day or night, whatever the number of victims needing to be treated simultaneously, these highly experienced specialists remain totally focused on getting the patient stabilized.
The Golden Hour is for them a critical time when attention to detail can make the difference between life and death.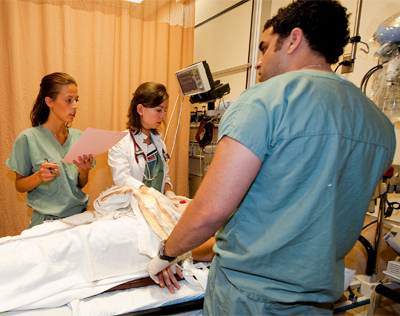 Most importantly, The Golden Hour reflects a golden rule that applies throughout the McGill University Health Centre: patient support is always founded on the personal needs of that individual and his or her family. That's why the scope of the Trauma Program goes well beyond the emergency resuscitation room; it includes surgery, intensive care and rehabilitation. In total, more than 40 disciplines and services are concerned.
The trauma team's involvement does not end when the trauma victim's life is out of danger: it continues until that person is optimally reintegrated into society, even if it takes months.