He was there for the Polytechnique tragedy. And for Dawson.
Head of the Division of thoracic surgery at the Montreal General Hospital, he is also the physician of the Montreal Canadiens. And in summer, he gives a helping hand to the Montreal Alouettes. He knows about traumas!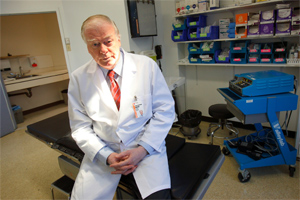 Yet, Dr. David Mulder deserves credit for even more than that. He is one of the reasons the Montreal General Hospital is ranked among the top trauma centres in Quebec, having been fully committed to this field even before the discussions about an integrated trauma network in Quebec in 1991.
With Dr. Léon Dontigny of Université de Montréal, Dr. Mulder actively participated in the American College of Surgeons Committee on Trauma, reporting on the study materials for future Canadian surgeons and providing vital doctrines on efficient treatment of trauma. The second Canadian to preside over the American Association for the Surgery of Trauma, he has contributed to the international influence of the Trauma Association of Canada.
When Quebec's Ministry of Health and Social Services assessed which hospitals should be designated for tertiary trauma care, Dr. Mulder was able to put the case for the Montreal General Hospital, resulting in its selection.
A passionate physician and renowned surgeon, Dr. Mulder headed McGill University's Faculty of Cardiothoracic Surgery and then the Faculty of Surgery. The first person to be awarded the Rocke Robertson Chair in Surgery, he received the award of merit of the Montreal General Hospital and was honoured with the Order of the Canada.
He has also written a number of important papers on trauma research and closely follows worldwide measures to reduce morbidity and mortality rates associated with trauma. Prevention is also very close to his heart. 
In appreciation of the efforts and advances for which he has been a leader and inspiration, the Montreal General Hospital Foundation has funded a trauma research care chair bearing his name.