The unit is proud to have spearheaded numerous clinical and research innovations over the past several years that promise to maintain our leadership on the Canadian Thoracic Surgery landscape.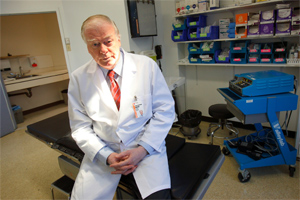 Through Dr. David Mulder's leadership, MUHC Thoracic Surgery is highly regarded in both thoracic trauma and lung oncology.  
Over the past 5 years, it is the Upper GI Cancer Program that has truly taken off and gained international recognition for a number of clinical and research initiatives. Foremost amongst these has been the development of an endoscopic therapy program for early malignancies of the foregut. Our Division hosts North America's first Endoscopic Submucosal Dissection (ESD) Program for the resection of early esophageal and gastric cancers.  Originally developed in Japan, this highly specialized technique, employing novel electrosurgical equipment passed through a standard gastroscope, enables the en-bloc removal of cancers limited to the mucosa and superficial submucosa. Numerous patients have undergone this organ sparing removal of early malignancies of the foregut at the Montreal General Hospital that leaves no scar and minimal morbidity. Overall, the Upper GI Cancer Program has grown exponentially by 300 per cent over the past 5 years and represents the busiest program in Canada, with over 110 resections annually. 
The Division of Thoracic Surgery supports an active clinical and translational research program, funded by both the Canadian Cancer Society Research Institute and the Canadian Institutes of Health Research.  
Some of our recent findings: 
through a recently published trial, we have established a new neoadjuvant chemotherapy regimen for esophageal adenocarcinoma currently used worldwide (Ferri et al, Annals of Oncology 2012); 
our group has identified a novel approach using stent + single dose brachytherapy to palliate dysphagia in patients with metastatic esophageal cancer (Hanna et al, Current Oncology 2012); 
we have successfully applied an enhanced recovery program to esophagectomy reducing the median length of stay to only 8 days after this complex procedure (Li et al, Surgery 2012).  
In bench research (research done in the lab), the Division is actively investigating the inflammatory basis of cancer metastasis and has identified the important role of bacterial antigens and host neutrophils in propagating cancer dissemination, thus representing a new paradigm in the metastatic process. 
The most recent discovery highlighting the novel finding implicating Neutrophil Extracellular Traps in the metastatic process (Cools-Lartigue and Spicer et al, Journal of Clinical Oncology 2013) was widely reported in the global lay media including National Public Radio, Australian Broadcasting Corporation, and Radio-Canada.