In May, McGill University Health Centre (MUHC) Pharmacist Nancy Sheehan received the Roger-Leblanc Award of Excel­lence from the Association des pharmaciens des établisse­ments de santé du Québec. "It is only given once a year by this association and among hospital pharmacists, it is considered a lifetime achievement award," says MUHC Director of Pharmacy André Bonnici. "We are very proud of and happy for Nancy."
This award recognizes a pharmacist's excellence in their prac­tice throughout their career in a health facility.
At the young age of 43, Nancy confesses that she never could have predicted this, but it comes as no surprise if you know her story.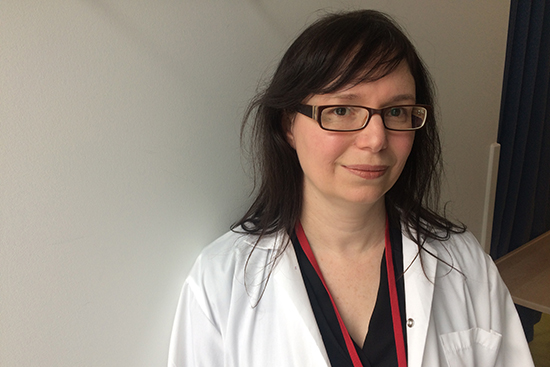 "I have been working very hard since university," says Nancy, who specializes in infectious diseases, specifically HIV and viral hepatitis. "But everything I did from a very young age was to become a hospital pharmacist and to specialize in HIV."
By the beginning of Cegep, Nancy knew the career path she wanted to take. She had met a hospital pharmacist in her home town of Sept-Îles and she immediately knew it was perfect for her. "It was mostly because of the interaction with the other healthcare professionals; the team approach. So when I started university I planned my training accordingly."
At 15, she was already taking on proactive measures to help others understand HIV. "I passed around pamphlets about safer sex habits to prevent the transmission of this infection. It was just starting to hit the media then; I was interested in what it was, the vulnerable populations it affected and prevention. I still have a few of those pamphlets!"
In 1998, Nancy finished school and hit the road running. She never looked back.
After a first job in her hometown hospital she went to To­ronto General Hospital and St. Michael's Hospital to receive specialty training in HIV. By 2002, Dr. Richard Lalonde, then the Director of the Immunodeficiency Service at the MUHC, recruited Nancy. "I was easily convinced because at that time it was the best place to practice in terms of HIV, and I believe it still is," she says.
With extra training in the Netherlands in 2004, Nancy learned how to adjust anti-HIV medication doses based on patient characteristics, viral genetics and plasma concentrations. With this knowledge base, she has been a leader with the immuno­deficiency team at the MUHC. In Quebec, Nancy participated in the development of the Quebec Antiretroviral Therapeutic Drug Monitoring Program, which is based at the MUHC, including training pharmacists for the job. It is a provincial program for all patients living with HIV in Québec, which measures levels of anti-HIV medications in the blood and adapts doses to ensure best response and limit toxicity.
Nancy has also been involved in research and has many publications as a primary author in relation to adjustment of medication doses, drug interactions and management of side effects. "She is one of the first pharmacists in Quebec to publish so many papers as a main author," says André. "This is ground breaking."
But it doesn't stop there. Until two years ago, Nancy was a professor at the Faculty of Pharmacy, University of Montreal, 50 per cent of her work time. But she realized she missed the in­teraction with patients and the clinic environment at the MUHC. "So I now teach only 15 per cent of the time on subjects I love; infectious diseases, HIV, viral hepatitis and tropical medicine. And I train pharmacists to do international humanitarian aid."
With the Toronto General Hospital and University of To­ronto she also co-directs a very popular pharmacy residency during which pharmacists do an extra year specializing in HIV. The resident spends part of the year in Toronto and another portion at the MUHC. "Nancy has always been a sought after mentor for students," says André.
For more than six years, Nancy worked on the implemen­tation of the new Professional Pharmacy Doctorate degree (PharmD) in Quebec. "Université de Montréal was the first in Canada to change their undergraduate pharmacy program to an entry-level PharmD and now the rest of the country is hop­ping on board," she says. "There are more credits and rotations with more of a focus on clinical work."
When asked what her future may hold, Nancy is unsure. "It is odd because this prize is forcing me to look back over the last 17 years and look forward as well. I will continue to work on balancing my life, finish my PharmD bridging program, which I only have one credit left to do, and participate in numerous provincial and national committees. One thing is for sure—I am so lucky to be with this team at the MUHC so I will not be leav­ing them any time soon."
And André is quick to say how lucky the MUHC is and all of the patients who have, and will, benefit from Nancy's involve­ment in pharmaceutical care.