One-on-one with RI-MUHC's Dr. Bahar Torabi and Dr. Elizabeth Fixman
The McGill University Health Centre's Research Institute (RI-MUHC) houses an incredible amount of talent and innovation. To mark the International Day of Women and Girls in Science, we sat down with two female researchers leading exciting work in their respective areas of interest.
Dr. Bahar Torabi is a post-doctorate fellow working in Dr. Bruce Mazer's lab. Her area of research has to do with food allergies, specifically milk allergies in children. She's part of a team studying the possibility of desensitizing children with milk allergies by administering small doses of lactose, all the while studying the effects on their immune system and change in antibodies.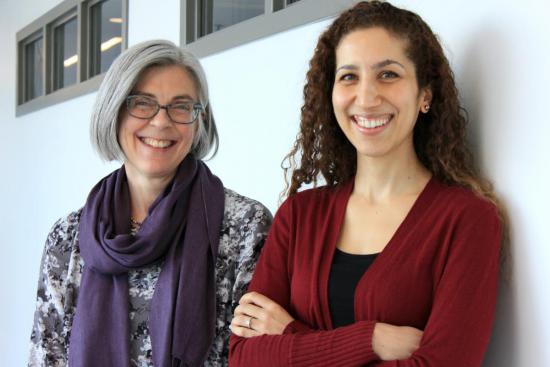 Dr. Elizabeth Fixman is an associate professor in the Department of Medicine at McGill University. She has an extensive resumé, working in various fields of research. However, she is currently leading a team of researchers at the RI-MUHC as they take a closer look at allergic airways disease, such as asthma, and allergic responses in the lungs.
Q: Do you remember your first few days on the job? What was it like?
Bahar:
It was exciting and overwhelming because I was starting something new. It was a big change for me because I was only seeing patients before. Coming into the lab, I had to re-learn many little things. The learning curve was quite steep in the beginning.
Elizabeth:
I would guess that most people find their first day and maybe the first few months overwhelming. But I think what keeps people in research is when they do an experiment and they get a result that they understand, or they test a hypothesis and it's correct. I think that can be very enticing.
Q: Who would you consider to be your mentors in this field?
Elizabeth:
Looking back on my training as a PhD student and as a post-doc, I worked for a couple of women who were good mentors for me. They had a good perspective on work/life balance, which is challenging in academic research but it is something I would like too.
Bahar:
If I am thinking work related, the person I think about is Dr. Christine McCusker (Division Head, Pediatric Allergy and Immunology). She's a doctor and she has her own lab, and she has an impressive research career. She has kids, she loves to bake, and she hosts the division Thanksgiving party. I just always wonder how she has the time!
Also, it's cheesy, but my mom. She's a superwoman; I don't know how she does everything. I wish I had her energy.
Q: What drives you to come to work every day?
Elizabeth:
I like the people that I work with and I like discovery. Even though it often feels like one step forward, two steps back! It's the hope that we'll make a difference.
Bahar:
Certain days would be going to clinic and seeing patients, so that's for sure one. And the other would be achieving the goals that I've set for myself. Both short-term and long-term.
Q: Do you have advice for young aspiring researchers?
Bahar:
Be curious. Don't be afraid to ask questions, even if something seems simple, or it's seen as a fact. If you're thinking 'why or how come,' I think that's a good way to start. In 10 years, maybe what we know to be true now might not be the actual answer then, or there may be so much more to add to it.
Don't be afraid of failure, in anything, not just science, or research, or as a girl or woman. Just don't be afraid of failure.
Elizabeth:
I think I would say go out there and try many things. If you think you're interested in science, then try, and see if it moves you. And don't be afraid to explore different areas.