In memory of Dr. Douglas Kinnear
The McGill University Health Centre (MUHC) remembers Dr. Douglas Gordon Kinnear, a founding father and Canadian gastroenterology pioneer who was dedicated to his beloved Montreal General Hospital (MGH), who died peacefully on May 11, 2019, at the age of 92.
After completing his education and training at McGill University, Dr. Kinnear's illustrious medical career began with hiring as a junior assistant physician at the MGH in 1957. He went on to establish the first Gastroenterology Division in the country where he served as chair and trained over 100 physicians over the course of a five-decade career marked by a love for clinical bedside teaching. Dr. Kinnear's passion for gastroenterology was spurred from his experience of treating cases of the bowel disorder sprue.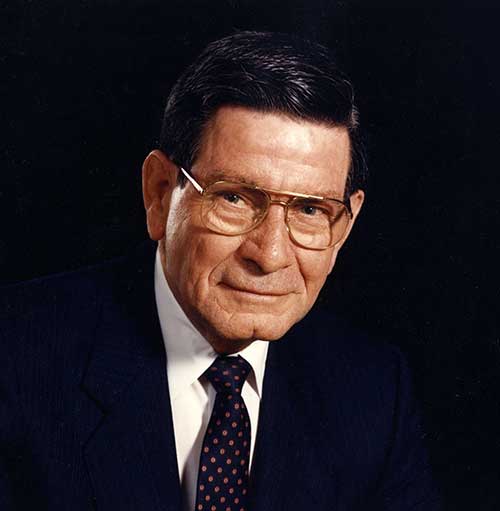 "His favorite award was the Award of Merit he received from the Montreal General Hospital. He was totally committed to the Montreal General, that's where he had trained and it was really his home – his home from away home," remembers Dr. Kinnear's wife Katie, who met her late husband while working as a nurse at the then fierce rival Royal Victoria Hospital. 
Dr. Kinnear accomplishments included being a founding member of the Canadian Association of Gastroenterology, Chairman of the Examining Board of the Royal College of Physicians of Canada, Governor for the province of Quebec for the American College of Physicians, and serving as Associate Dean of Admissions in the Faculty of Medicine at McGill University.
"Doc" was also director of the Montreal Canadiens medical team from 1962 to 1999, where he ensured the health of 'Les Habitants' players during a period marked by 12 Stanley Cup triumphs. Working alongside Dr. David Mulder to help Serge Savard and Larry Robinson recover from broken legs, he saved Lou Fontinato's life following a gruesome on-ice injury on one of his first nights on the job. "Doc's" expertise in gastroenterology was felt in 1973 when he developed a medical concoction to alleviate goaltender Ken Dryden's indigestion, which was causing him to vomit before games. 
"He was a pillar of the MGH who served in many capacities," remembers Dr. Mulder, "and a great link to the Montreal Canadiens for our hospital."