There has been a lot in the news lately about Lyme Disease. But what is it? How do you know if you have it? And how do you protect you and your family from getting it?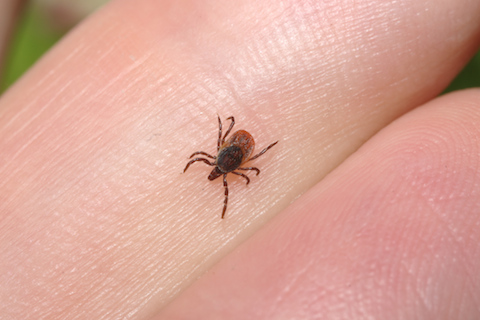 WHAT IS LYME DISEASE?
Lyme disease is caused by bacteria transmitted through the bite of a tick infected with the disease. Ticks get the disease from biting infected small animals, such as mice.
The ticks are between 1 and 3 mms and can triple in size when filled with blood. Because they cause no pain when biting they can go unnoticed.
WHERE IS LYME DISEASE FOUND IN QUEBEC?
In 2013, 70 people in Quebec were diagnosed with Lyme Disease. Data confirms the highest presence of lyme disease in ticks to be in the following areas:
A large part of Montérégie
The south-east portion of the Mauricie- and Centre-du-Quebec region
The north of Estrie
Ticks live in the woods, bushes and tall grass.
WHY IS LYME DISEASE ON THE RISE?
Quebec winters are not as cold as they used to be so the warmer climate enables the ticks to survive and grow more easily.
WHAT DO YOU DO IF YOU ARE BITTEN BY A TICK?
Please refer to "Removing a tick after a bite."
Record where on your body you were bitten, the place and the date and after removing the tick put it in a container so it can be tested for the disease if required.
The tick cannot transmit Lyme Disease if it is attached less than 24 hours.
WHAT ARE THE SYMPTOMS OF LYME DISEASE?
Symptoms usually appear 3 to 30 days after the bite of an infected tick. If you experience any of the following symptoms in this timeframe see a doctor.
Reddening of the skin in the area bitten. The rash spreads fast, reaching up to 15 cm in diameter and takes the shape of a target (clear center with darker boundary). Sometimes the rash can appear on several parts of the body.
Fever
Fatigue
Headache
Neck stiffness
Muscle pain
WHAT HAPPENS IF THE DISEASE IS NOT TREATED?
Lyme Disease can cause problems in other organs or parts of the body weeks, months or even years after the bite, for example:
Joint problems
Heart problems
Neurological problems
CAN LYME DISEASE BE TREATED?
Lyme disease can be treated with antibiotics prescribed by a doctor. The nature and duration of the treatment depends on the stage of infection and symptoms. Not everyone is treated if they don't have symptoms.

For more information about Lyme Disease, including:
How to avoid tick bites
How to spot a tick on your body
How to reduce the presence of ticks in your surroundings
Click here
The information contained in this article is thanks to Dr. Michael Libman, Tropical Diseases, McGill University Health Centre (MUHC), and Quebec Health and Social Services.