NEURO PORTRAIT: inspiring art and science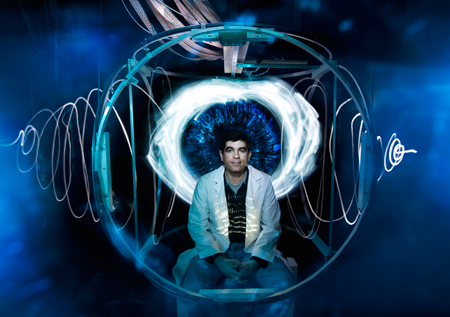 Men and women in white gowns and masks, machine lights flickering, strange instruments glowing—a brain operation is a visually exciting spectacle for a photographer. But what if the photographer is also the patient?
The answer can be found in photos by Yves Ferland, who underwent a successful brain tumour operation in 2010 at the Montreal Neurological Institute and Hospital - The Neuro. Last year, he returned to The Neuro to shoot a series of unique photos from the patient's perspective.  
His photos are part of Neuro Portrait, an extraordinary exhibit by twelve local photographers who reveal, in candid detail, the highly trained people who carry out delicate operations, treat patients with degenerative diseases and spend long hours at laboratory benches in a search for the causes of diseases and their cures. The faces of surgical residents, a neurosurgeon's healing hands at work, portraits of stalwart nurses—the images become metaphors for dedication and service in medicine.
The exhibit also shows contemporary photography at its most creative. Under the photographers' lenses, for example, clusters of brain cells glow like stars in a galaxy. One amazing image of 95-year-old neuropsychologist Brenda Milner was created with fire and soot.
All of the images in Neuro Portrait were freely donated by professional photographers: Yves Ferland, Jean-Francois Bérubé, Martine Doucet, Martine Doyon, Adrien Duey, Francois Fortin, Yves Lacombe, Ron Levin, Dominique Malaterre, Sean O'Neill, Steven Spazuk and Monica Colman. 
Neuro Portrait can be seen at: at Complexe de la Gare Centrale, September 16-27, at Place Ville-Marie, October 7-18, and at the Centre de commerce mondial de Montreal, October 28-November 8.