June is Brain Injury Awareness month
Eric Lindros, Sidney Crosby and Troy Aikman all have one thing in common beyond being superstar athletes:  each has suffered multiple concussions that have either forced them into retirement or to sit out of play for huge chunks of time. 
Mild traumatic brain injury (mTBI), which includes concussions, is among the most common neurological condition with an estimated annual incidence of up to 600 people out of every 100,000 in Canada. 
Although concussions usually are caused by a blow to the head, they can also occur when the head and upper body are violently shaken. These injuries can cause a loss of consciousness, but not necessarily. Concussions can be easily overlooked by healthcare professionals but with the presence of symptoms that include headache, difficulty thinking, memory problems, attention deficits, mood swings and frustration, the effect on the family and the injured person can be devastating. An early diagnosis combined with proper intervention is therefore primordial. 
At the McGill University Health Centre (MUHC), the TBI Program is trying to change the face of concussion. They are currently in the process of making huge strides to educate and create awareness with healthcare workers with regard to the symptoms of mTBI and the interventions required when following a concussion. This includes teaching through conferences, written material such as pamphlets, and interviews with the media. Recently, the mTBI team received a grant from the Fonds de recherche du Québec – Santé (FRQS), to create a series of tutorials to educate and create awareness with healthcare professionals across Montreal.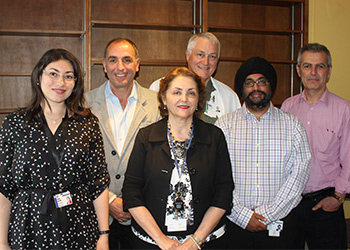 The MUHC also just received close to $3 million in funding from the Canada Foundation for Innovation (CFI) to create a first-of-its-kind research facility focused on measuring the effects of mTBI and developing innovative treatments. This new facility, led by researchers with expertise in neurology, psychology, ophthalmology, physics and engineering, will become a leading-edge research centre. Dr. Alain Ptito, who is a medical scientist at the Research Institute of the MUHC (RI-MUHC), was awarded this grant and he will lead the new facility, which will be housed at the Montreal General Hospital of the MUHC (MGH-MUHC).
"With the support of the CFI, our team will have an Ultra High Performance MRI system that will be able to carry out more applications than any existing MRI system and will help us observe the brain's response to trauma with exceptional precision. This knowledge will allow us to develop new diagnostic tools and treatments to help thousands of Canadians who suffer head injuries every year,'' explains Dr. Ptito, who is also a neuropsychologist at the Montreal Neurological Institute and the director of the Department of Psychology at the MUHC.
With the new MRI, data will be tracked and fed back to the treating doctors. The much higher resolution will hopefully allow the detection of sheared axons and microvascular changes and, with such information, allow the eventual development of blood biomarkers for diagnosing mTBI early following a trauma. 
"We may be able to get so precise that if a patient comes in presenting with symptoms of a concussion we could draw blood and look for these bio-markers," says Dr. Ptito. "If the results are positive we can treat accordingly immediately. If we can intervene this early, the patient has a much better chance of recovering quicker and returning to a normal life." 
Brief initial rest, physically and mentally, along with a gradual return to activities appear to be the best way to fully recover from a concussion. Treatment of insomnia and headache is essential. In addition, psychological support along with physiotherapy, when warranted, can help accelerate recuperation. "A neuropsychological assessment is occasionally requested in order to determine the severity of the cognitive, as well as the psychological, symptoms," says Dr. Simon Tinawi, consultant in Physical Medicine and Rehabilitation for the TBI Program.
Currently, the mTBI outpatient clinic sees about 450 new patients a year from all over Montreal and beyond. Their mission: to see their patients early to prevent complications and chronic conditions and facilitate a rapid return to regular life. With the new projects that are beginning, the mTBI team is poised to help many more patients with concussions or mTBI.
"This entire process represents the essential harmony required from teaching, clinical care, research and technology in today's healthcare system to achieve optimum outcomes for the patient and their family," says Mitra Feyz, MUHC administrative director of the Traumatic Brain Injury Program. "With this equation we are hoping to get the result we want: the right care, at the right place at the right time."