Treating the Psychological Effects of a Traumatic Brain Injury
The McGill University Health Centre's Physical Medicine and Rehabilitation Service may not necessarily be the first clinic that comes to mind during Mental Illness Awareness Week from October 1 to 7.
But the department, which is one of 17 falling under the umbrella of the Traumatic Brain Injury program (TBI), provides critical care to patients who have suffered a traumatic brain injury– mild, moderate, or severe – that can lead to psychological aftereffects.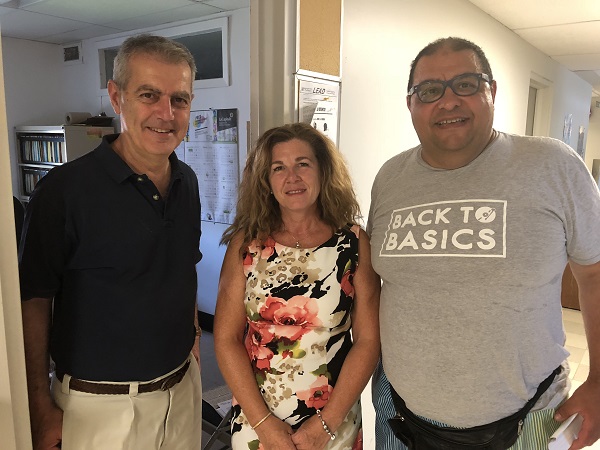 Just ask Mohamad Abou Alkhir.
The 50-year-old Syria native and father of three was assaulted by a pair of men during his midnight shift working as a security guard. Mohamad took a blow to his forehead, was punched and kicked over his body, and ultimately suffered a knee injury after being struck by a car while fleeing his aggressors.
"I thought I was going to die. I pleaded with them to stop but they did not. It felt like they wanted to kill me," recalls Mohamad, who was referred to the clinic as a result of his injuries.  "The trauma of the incident means sometimes when I wake up in the middle of the night and I'm leaving my room I imagine someone attacking me."
To Dr. Simon Tinawi, consultant physiatrist in the Physical Medicine and Rehabilitation Service, it was clear Mr. Abou Alkhir was suffering from Post-Traumatic Stress Disorder (PTSD). Canada has the highest global levels of PTSD, while one in three people will experience mental illness in their lifetime.
"These are severe symptoms; it is more than just a concussion. He was threatened, beaten, and humiliated," Dr. Tinawi says. "Cognitively, he is doing much better but psychologically he still needs to be supported, treated and encouraged to continue his social activities."
Mohamad detailed his aches and pains during a summer check-up with Dr. Tinawi, who strongly recommended his patient to continue the psychological aspect of his treatment. The scar on Mohamad's forehead was still fresh and his left knee remained swollen after being drained of fluid, but it was his mental health that worried Dr. Tinawi most. It was clear that Mohamad's long-term mental state of mind would be compromised without the proper treatment.
"My job is to listen to the patient. I retrieve the information from the chart, listen to his story, examine the patient and, most importantly, come up with the right diagnosis and solution. We want patients to be back to their everyday activities," says Dr. Tinawi, whose clinic welcomes up to 600 patients per year.
Overall, there are a variety of disciplines working exclusively with TBI patients who have been victims of accidents related to car crashes, CSST, violent acts, sports injuries, and more. These patients are automatically referred to the TBI Program. Regardless of the extent of the injury, the department aims to help all of its patients get healthy and functional again. The success of the TBI out-patient clinic at the MGH can be measured by the fact that over 95 per cent of patients avoid long-lasting chronic worries.
"No matter what, patients need to hear a sound explanation of their diagnosis and related problems," says Mitra Feyz, chair of the TBI program. "We also perform research to better understand traumatic brain injuries and the consequences of them."
Mohamad says Dr. Tinawi and the department's human touch continues to inspire him while making an impact during a fragile time.
"In the eight years I've been in Canada, I've never been treated better. It was unbelievable, amazing, he treated me as if I was his own patient," Mohamad says "The time he spent with me was extraordinary. He helped return and inspire my confidence, which had been lost after such a terrible accident."