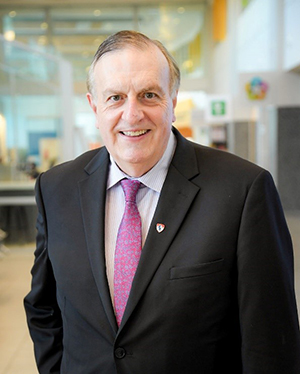 Dear colleagues,
It is hard to believe but the moment has come for my final message to the McGill University Health Centre (MUHC). It is bittersweet for me to reflect on my tenure and pen this note because it has been a privilege and an honour to help the MUHC achieve many goals since I arrived in May 2018. 
I would like to underscore how gratified I am of our collaboration and the ambitious direction we have set for the MUHC's future.
Together, we recruited talented chiefs, directors and senior managers, a new executive director and chief scientific officer for the Research Institute of the MUHC, as well as additional leaders due to a wave of retirees. We made mission-based improvements, including reviewing the organization of ambulatory services and building clinical capacity through simulation. We managed our financial resources effectively in spite of myriad budgetary constraints and challenges, while advancing modernization plans for our hospitals. We worked ardently with our partners, notably McGill University, sister organizations across the RUISSS McGill and our foundations to further our mission as a leading academic health centre. We respected our obligations to the Ministry of Health and Social Services and tackled a number of governance-related matters, such as anchoring the professional practice model in the current context and supporting our MUHC Central Users' Committee through a renewal process. We also led an unprecedented study on equity, diversity and inclusion at the MUHC, for which recommendations were presented and adopted in September 2022, and developed a pivotal strategic plan, which the Board of Directors of the MUHC adopted last month.
Of course, we also "kept calm and carried on" throughout a bewildering COVID-19 pandemic. This was an especially difficult time for our patients and the community at large, for our partners across the health and social services network, and for us as a team that worried it was not able to support patients the way they should. I want to seize this moment to remind everyone that we showed our true colours from day one of pandemic preparedness in January 2020 to the actual management of it during its multiple waves and even today as it continues to be a part of our new reality. Leadership, compassion, generosity, talent, dedication, teamwork, and resilience… this was and is the MUHC. I know each wave took its toll and that we are still recovering, but thanks to everyone's sense of purpose, I remain convinced that the MUHC will continue to strive for excellence and to innovate on behalf of patients in Quebec and around the world.
I would like to recognize and thank Peter Kruyt, the chairman of the Board of Directors of the MUHC, and all Board members for their unconditional support and valuable contributions. Let us not forget that these individuals are all volunteers and that the MUHC is fortunate to benefit from their skillsets in governance, finance, real estate, human resources, technology, and patient care. 
I want to express my sincerest appreciation to Martine Alfonso, the associate president and executive director of the MUHC, to all members of the MUHC's Management Committee (Comité de direction) and Strategic Committee (Comité de régie), and to my immediate Executive Office team. You all played a major role in my success as president and executive director and, most importantly, in the MUHC's accomplishments over these past years.
I would like to extend my best wishes to the MUHC's incoming president and executive director, Dr. Lucie Opatrny. I cannot think of a better successor nor of a more auspicious way to start a brand new year! I invite you all to welcome her warmly, as you did me.
Finally, I would like to bid everyone a fond adieu. My time at the MUHC will remain one of the highlights of my 40+-year career in health care and a source of pride always. I look forward to keeping an eye on your next feats!
Sincerely,
Pierre Gfeller, MD, CM, MBA
President and Executive Director, MUHC