Ensuring excellence in occupational therapy education in a Pandemic
October is Occupational Therapy Month in Canada. We take this opportunity to recognize the outstanding work of members of the profession whose work is critical to the prompt recovery of patients with COVID-19. Despite the additional burden brought on by the pandemic, occupational therapists continue to train many occupational therapy students in hospitals affiliated with the McGill University Health Centre (MUHC). Every day, teachers draw on their knowledge, skills and, most importantly, their love of the profession to train those who will come to help.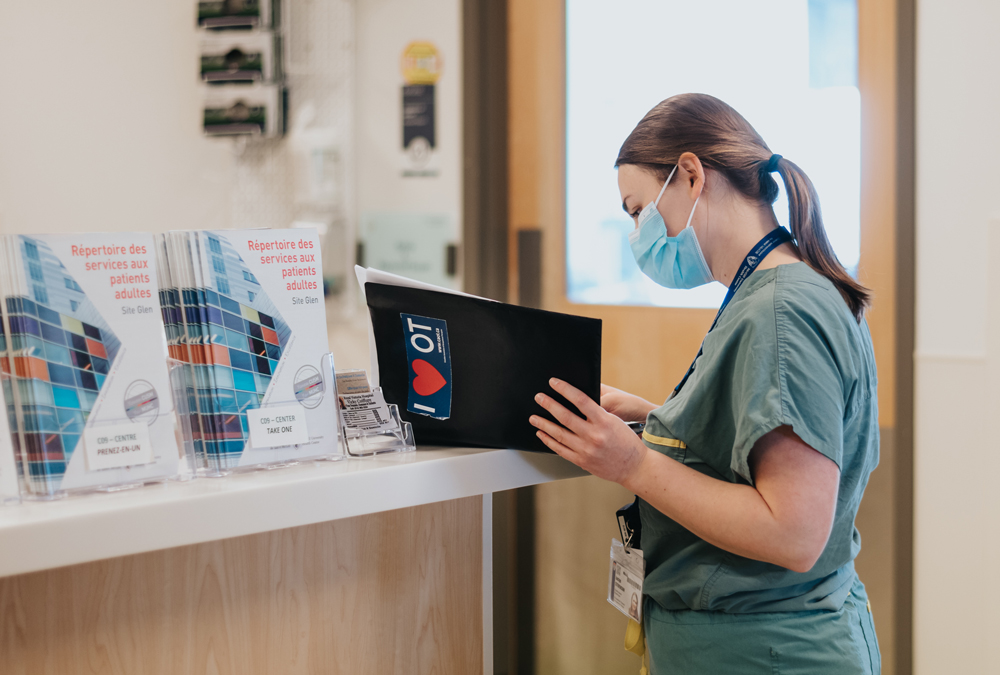 October 27th is also World Occupational Therapy Day. On this special day, the MUHC salutes the work and contribution of more than 60 occupational therapists who work in both inpatient and outpatient care in its hospitals. Twenty-two of them spent nearly 13,000 hours supervising 56 trainees in 2019-2020.
Occupational therapist and the COVID-19 crisis
In times of pandemic, the hard work of MUHC occupational therapists, teachers, as well as the assiduity of the students, is more than ever required to help COVID-19 patients make a quick recovery.
Many patients with COVID-19 who require hospitalization need the assistance of our occupational therapists to regain their strength. MUHC occupational therapists ensure that patients receive the essential support they need to return home in the best possible conditions. For example, some patients who have been intubated may need help to swallow again, comfortably and safely. For others, it is rehabilitation to strengthen their faculties impaired by the disease.
Pandemic or not, occupational therapy students at the MUHC have multiple opportunities to learn and practice in a fast-paced, complex care environment. Here are six strengths that make occupational therapy education unique to the MUHC:
1. A wide variety of opportunities for learning.
"At the MUHC, we have the privilege of treating patients from diverse groups. It is an ideal environment for students to learn the various specialties of the trade and to develop their skills. By being part of multidisciplinary teams, they learn about the various roles of each professional and how they work together to achieve the best outcomes for patients."   – Ann Taylor, retired occupational therapist, after 40 years of service at the MUHC
2. A patient-centered approach.
"In addition to having outstanding clinical skills, flexibility and a genuine desire to help others are essential to excel in the profession. We must regularly adjust our interventions and think differently to effectively meet patient needs." – Anne-Marie Brassard, occupational therapist at the MUHC Montreal Neurological Hospital, currently in the Cancer Rehabilitation Program in the Cedar Cancer Centre within the Royal Victoria Hospital.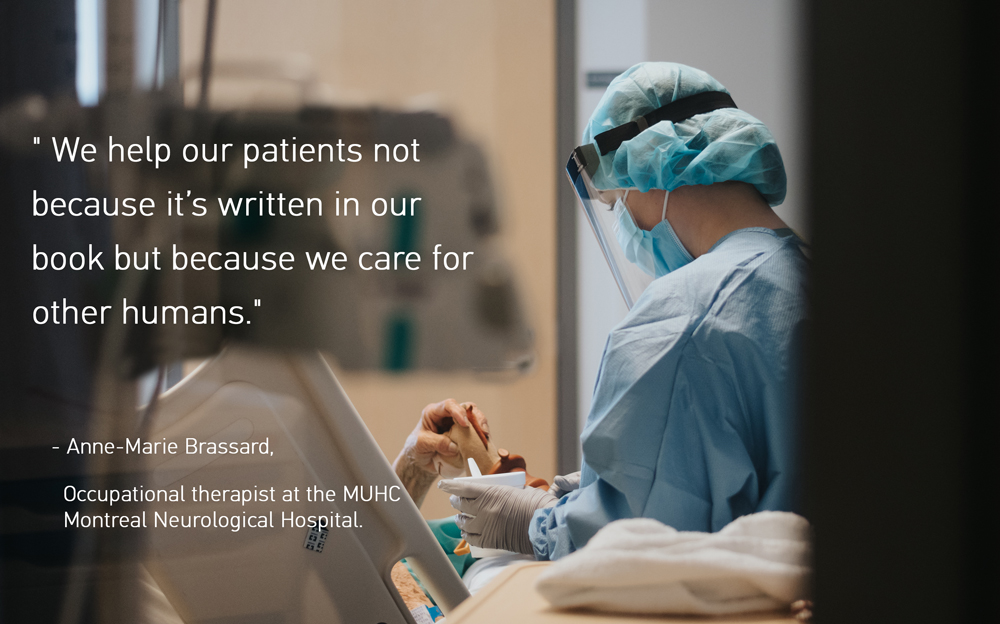 The MUHC is proud to count on professionals who care about the well-being of their students, patients, and collegues as this touching gesture by occupational therapist Jaclyn Stevenson reminds us. This is where one of the strengths of MUHC occupational therapists and their students lies: a human and altruistic side, even in difficult times.
3. Creativity and dynamism are essential qualities.
"Each case is unique, so it takes creativity to determine the best strategy to adopt with each patient. This gives students the opportunity to experiment with new ideas in the field. " – Mireille Boulos, occupational therapist in Psychiatry in the Transitional Day Program at the MUHC Montreal General Hospital.
These qualities are all the more essential because occupational therapists must constantly innovate to deal with the unprecedented conditions brought about by the COVID-19 crisis.
4. A practice based on research.
"We integrate research-based practice to provide the best services. We provide our students with training that focuses on the latest research and that allows us to establish our practices. "
  – Karen Falcicchio, occupational therapist in the MUHC and faculty lecturer and associate academic coordinator of clinical education (OT), McGill University
5. Learning from students.
"As occupational therapists, we are constantly looking for ways to improve our practice. Students provide us with the latest occupational therapy research and original ideas. That's why teaching is so rewarding!" – Katrina Ballerini, occupational therapist at the MUHC Allan Memorial Institute.
6. Teaching… to teach!
"Our patients need to feel supported and listened to, they need to understand their disease and find the best ways to cope. Education is therefore essential.  We teach students to teach patients a variety of methods that ensure their safety and maximize their independence. There is no greater feeling than hearing, 'You changed my life'.»  – Beth Robertson, occupational therapist in the out-patient department of the MUHC Montreal Neurological Hospital.
"It's amazing to think that Occupational Therapy at our hospitals can be traced back to 1938.  A lot has changed since then, but not the passion our occupational therapists have in working for the benefit of their clients, co-workers and the institution, even when times are tougher. They make an outstanding contribution to each and every unit, team and clinic." - Kashif Baig, manager of the Department of Occupational Therapy (Adult Sites) at the MUHC.