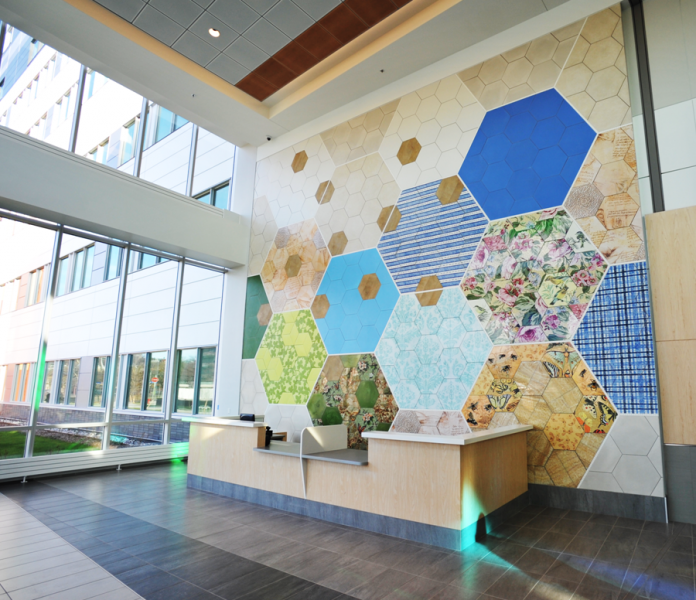 "Life. Biology. The interconnectedness of all things; natural and man-made elements fusing together in harmony"
Structura habitata
The goal of this mosaic is create an artwork that embraces and celebrates the beauty and curiosities of life.  A structured grid of hexagons in the design references both the symmetry and order found in nature but also illustrates natures' organic qualities. The hexagon was chosen as the basis for the design because of its associations to elements from nature, such as honeycombs and molecular structure diagrams. Moreover, it is a shape often employed in traditional quilting, and evokes sentiments of warmth, comfort and security as well as family and tradition. The large coloured hexagons contrast with the tiny mosaic pieces to illustrate the way that all things in life are composed of tiny particles, even the largest of objects. The bold, bright colour scheme of the artwork exudes a cheerful spirit and will complement the colours of the nearby window panes, while still remaining separate and distinct from the architecture. 
Materials: hand-built clay, commercial ceramic tiles, natural onyx, hand-made mosaic in byzantine glass smalti and ceramic
Dimensions: 7.2 m x 8.5 m
Location: Adult hospital atrium
Get to know the artist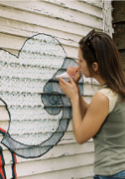 Shelley Miller is a Montreal-based artist who works in public spaces, creating both ephemeral street art installations, as well as permanent public art commissions. She has presented her work across Canada as well as India, Brazil and Australia. She earned a Bachelors in Fine Arts from the Alberta College of Art and Design (1997) and a Masters in Fine Arts from Concordia University (2001).  She has received numerous fellowships and grants from the Canada Council for the Arts, the Conseil des arts et lettres du Quebec and the Commonwealth Foundation.
Her work has been acquired by The City of Montreal, The Museum of Modern Art of Bahia (Salvador, Brazil), Reliance Industries (Mumbai, India), the Just for Laughs Museum (Montreal, QC) as well as many private collectors.