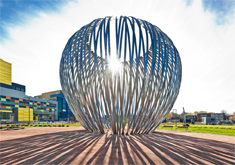 "An exploration of the body as a form of architecture, Havre is shelter for the spirit; for the body, it is a place of respite, an apt representation of the hospital environment."
Havre
Monumental at 13 m high and 16 m in diameter, this curving structure brings the immensity of the site to human scale. Rectangular tubes overlap and weave rhythmically, positioned to create three openings. The structure evokes the image of two clasped hands and a sense of support. The interlaced "fingers" suggest the members of the hospital staff; they join together as do the medical teams dedicated to the health of each of their patients. In daytime, the natural light creates shadow patterns across the artwork, ever-changing through the hours, days and seasons. At night, shades of blue and blue-green bathe the work in colours evocative of sky and water, elements essential to life. This contemporary artistic approach constitutes a welcoming attitude towards the community, inviting patients, visitors and staff members to come in to the artwork, and to the hospital complex.
Materials: Painted aluminium, LED lighting.
Dimensions: 13 x 15.78 m
Location: Glen Site Main Plaza
Get to know the artist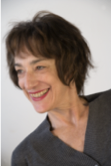 Linda Covit was born in Montréal, Canada, where she lives and works. Her outdoor installations respond to their surroundings, often embracing nature and the environment. She has received numerous grants from the Canada Council for the Arts, the Japan-Canada Fund, the Conseil des arts et des lettres du Québec, Cirque du Soleil and the Pollock-Krasner Foundation of New York. Her works can be found in the collections of the Musée d'art contemporain de Montréal, the Musée du Québec, Maurice A. Forget, Cirque du Soleil, the Musée de Lachine, the Koffler Gallery, and Concordia University.