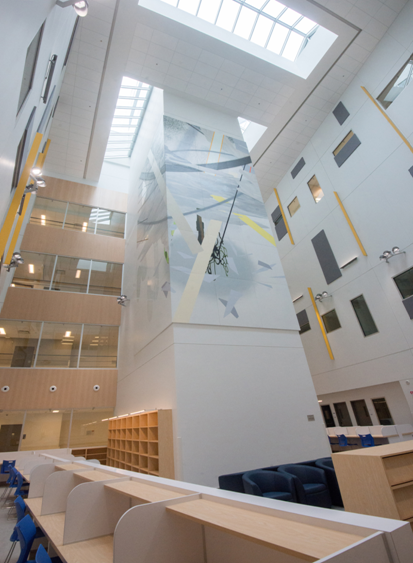 "An exploration of the infinitely variable nature of the sky as the basis for pictorial composition, through a series of formal consonances and dissonances, linear passages and colourful variations."
Prisme
A painting project adapted to the conceptual, functional and physical specificities of the space it is called upon to inhabit, this piece fulfils the need to strike a balance between dynamism and tranquillity, which formed the thrust of the design philosophy for this complex. The work features a composition formed by the relationship between various heterogeneous elements — a metaphor for life and our movement through the public space. At the same time, it conveys the impression of suspended movement conducive to spiritual rest and meditation. The placement of the forms and lines emphasizes the multiple viewpoints from which it will be possible to observe the work – this is possible from multiple angles surrounding the structure and through the windows from four different floors. In short, this work establishes a dynamic relationship between image, space and spectator; in doing so, it promotes a harmonious experience of integration, where each person participates in and influences the reading of the whole, which is constantly being renewed, depending on the vantage point.
Materials: 54 canvases, graphite pencil, liquid pigments, acrylic.
Dimensions : 3 walls covered with 18 canvases forming a vertical rectangle of 12.18 m x 4.71 m for a total size of 12,18 m x 12,13 m.
Location: Adult Resource Centre
Get to know the artist

Painter, photographer, and video artist Jean-Sébastien Denis was born in Sherbrooke in 1970. He has lived and worked in Montréal since 1993. Mr. Denis studied fine arts at UQAM, where he received the Jacques de Tonnancour graduate award in 1997. He has since taken part in several group and solo exhibitions in Montréal, Sherbrooke, Toronto, France and Germany. The artist's pictorial approach stems from a reflection on movement and the instability of the things around us. It attempts to translate the complexity of the world by working from a broad spectrum of pictorial methods. His recent series draws on the intersection between the palpable and the virtual that typifies our current reality.