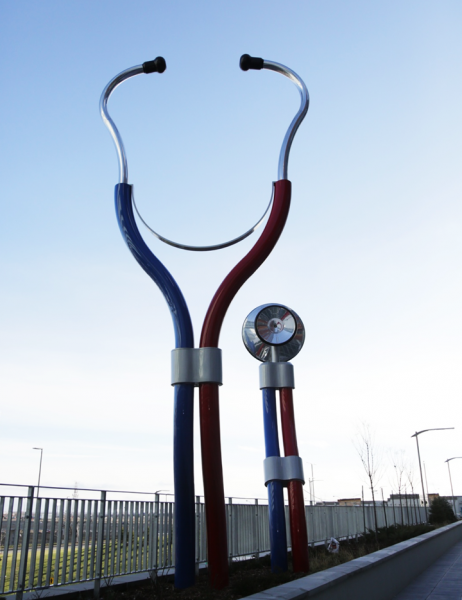 "The work we intend to integrate into the terrace space at the McGill University Health Centre's Adult hospital is a monumental and dynamic piece that is intimately linked to the establishment's vocation."
Prendre le pouls
The stethoscope symbolizes the relationship of trust between physician and patient; and as an icon of modern medicine, it has a special relationship with the public. The artists felt it would be fitting to position the statue in such a way that the ear tips lean toward the adult hospital, while the chestpiece points toward the surrounding neighbourhoods. This placement highlights the essential notion of listening at play in the relationship between practitioner and patient. The stethoscope, as an object, illustrates the contact between two individuals — it represents the human dimension of medicine. The decision to paint the two stethoscope tubes red and blue refers to anatomical medical models and the colour code used to represent blood circulation. The choice conveys the notion of exchange and flow.
Materials: Aluminium, electrostatic paint, concrete
Location: Terrace adjacent to the Adult hospital cafeteria
Size: 8m x 6m
Get to know the artists: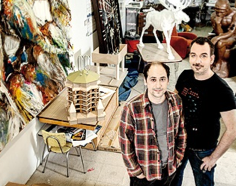 The contemporary art duo of Cooke-Sasseville was founded in 2000 by Québec natives Jean-François Cooke and Pierre Sasseville. They lead a dual career as sculptors and installation artists. Their works have been showcased in more than 15 solo exhibitions, and the duo also takes part in numerous events and group exhibitions both in Québec and abroad. Cooke-Sasseville has worked in the public art domain in recent years, completing various projects under Québec's policy of integrating the arts into architecture as well as projects for a number of municipalities. In 2012 Cooke-Sasseville won the Art Public award presented at the Gala des arts visuels for their work Mélangez le Tout, located near Montréal's Centre Jean-Claude Malépart.