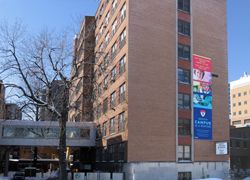 Since its founding in 1903, the Montreal Chest Institute (MCI) has been a leader in treating respiratory ailments and a pioneer in research related to this field.

Implantation de l'approche milieu de vie - Plan d'amélioration
The NEW hospital address:
The Montreal Chest Institute
1001 Boulevard Décarie, Montréal, QC H4A 3J1
Helpful Information
The main entrance to the Montreal Chest Institute is at 3650 St-Urbain Street, located south of Pine Avenue. Cars or taxis may pull up to the main entrance and drop off passengers.
Click to see the MCI hospital map.
Click to see a Google map of the MCI area.

Handicap Access Handicapped entrances are at the Main Entrance, or through the Ambulance Entrance at the side of the hospital in the main parking lot.
Bus and Metro
The nearest Metro station is Place-des-Arts on the green line, which is located near the corner of Ontario and St-Urbain.
Convenient bus numbers and bus stops are:
#144 at Pine Avenue and St-Urbain Street,
#R435, 80 or 129 at Parc Avenue and Prince Arthur Street,
#55 at Prince Arthur Street and St-Urbain.
Parking
Parking near the hospital is limited. There is a parking lot near the Main Entrance.
Reserved areas and signage must be respected at all times. Individuals who do not respect the No-parking signs may be ticketed or have their car towed.
Admission Date and Time
The Admissions Office will try to let you know in advance of the day and time you will be admitted. In some cases, your admission date could be delayed on short notice. Upon arrival, you should register with the Admissions Office, J1.33, and have a hospital card made (if you don't already have one). Although the hospital makes every effort to avoid such situations, you might arrive to be told that you cannot be admitted. In such cases you will be asked to return home or to make arrangements for accommodation in Montreal until a bed is available. Lists of low-cost accommodations are available from Social Services (local 32505).
Please follow any pre-operative instructions that may have been given to you.
The Emergency Department is open 24 hours a day.
What to Bring
Although the hospital provides hospital gowns, you may feel more comfortable in your own pyjamas/ clothing, housecoat, and slippers/shoes. You should bring a toothbrush, toothpaste, tissues, shaving items, soap, skin lotion, sanitary supplies and other personal-care articles. Since storage is limited, you are asked not to bring large suitcases.
Please bring all medications that you are taking. This will ensure that the admitting physician or nurse can verify the exact medication and dose that you have been prescribed.
You should also bring your valid Medicare card and Chest Institute Hospital card. If you do not have a Montreal Chest Institute Hospital card, the Admissions Office staff will make one for you.
Consent
At the time of admission, you will be asked to sign a general consent form for treatment and tests. For patients under the age of 14 years, the person with parental authority will be asked to sign on the patient's behalf. For patients who are mentally incapacitated,the curator, spouse, tutor or close relative may sign the consent form. For further information, contact the Ombudsman/Complaints Commissioner (local 35655) or the Social Service Department (local 32505). You may also telephone the Office of the Public Curator (514-873-4074).
At the same time, you will be asked whether or not you agree to release medical information to your insurance company and/or to referring doctors, hospitals or clinics.
Cafeteria The cafeteria is located on the second floor. It is open to patients and visitors during the following hours:
10:45 a.m. to 1:30 p.m., Monday to Friday
Vending machines are also available on the second floor at the Montreal Chest Institute.
Visiting Hours
Regular visiting hours are from 8 a.m. to 9 p.m. These hours may be modified based on a specific patient population or nursing unit's needs.
Montreal Chest Institute