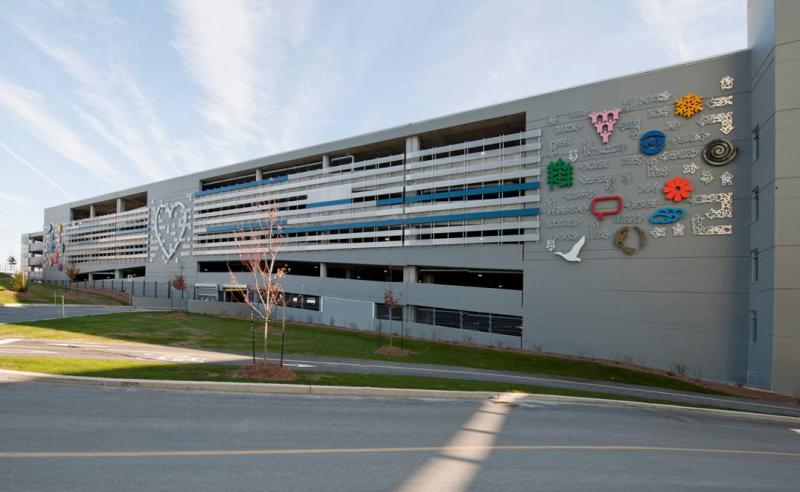 "An overall vision of the idea of attachment, a sentiment that brings people closer to people or things they like."
Cœur à Tout
Cœur à tout is a wall relief mural with three distinct components that complement the geometric shape of the building and take their inspiration from its formal appearance and the activities which take place within. The centrepiece, an enormous heart, establishes the overall message. This singular icon is an unequivocal symbol of harmony, the seat of sensation and emotions, and the organ that beats with the rhythm of life and animates the body. The viewer is led by arrows through the elements on the side panels on a complex yet ordered path of iconic images. While each individual assumes one's own symbolic universe, the jumbling of the images' order and complementarities makes the artwork a game, a puzzle or perhaps a riddle. It promotes within passersby familiarities and comparisons, giving them immediate feelings of connectivity and sensory pleasure.
Materials: Stainless steel, painted aluminium, polycarbonate and LED lighting.
Location: Multi-level employee parking lot
Get to know the artist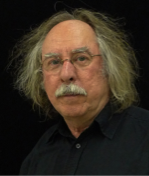 Born in Québec in 1944, Michel Goulet lives and works as a sculptor in Montréal. Several of his works can be found in large public and private collections, some of which were shown in the Musée d'art contemporain de Montréal's major retrospective in 2004. His contribution to public art is undeniable, having created more than 40 permanent installations in Montréal, Lyon, Québec, Toronto and Vancouver. He is at work on a piece for the city and province of Namur in Belgium. To date, he has received the Prix Paul-Émile-Borduas (1990), the Governor General's Award (2009), and an honorary doctorate from the Université de Sherbrooke (2010), as well as being named a Member of the Order of Canada (2012).