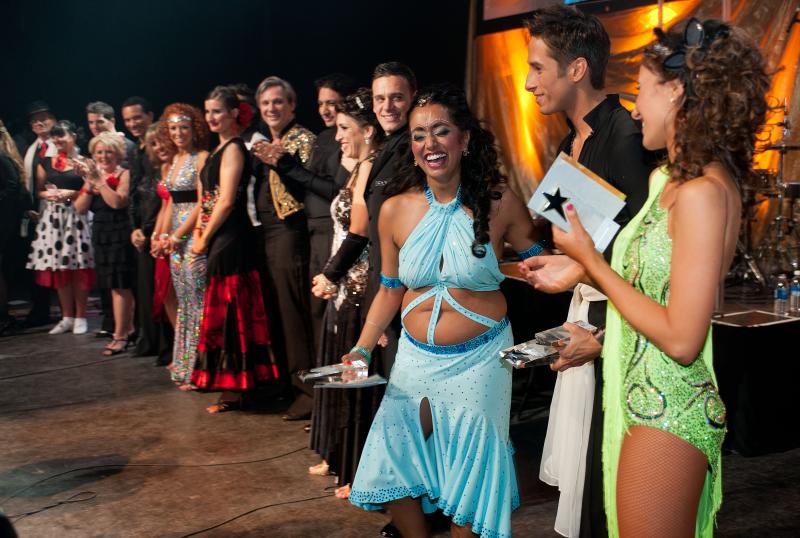 Ten MUHC doctors amazed, thrilled and thoroughly entertained the 800-plus capacity crowd at the fundraiser held on February 4th at Métropolis. The event raised $203,000 for the hospital's Best Care for Life Campaign.
Dr. Krishnamoorthy, who performed a rollicking Bollywood-inspired cha-cha with her Arthur Murray partner Cristopher Panasuk, was crowned the winner, with Drs. Nadine Korah and Rayan Kaedbey as second and third place finishers respectively.
"This whole experience has been amazing, from start to finish," said Dr. Krishnamoorthy. "It has been an honour to work alongside so many people – the dancers, my fellow doctors, the incredible organizers and the people behind the scenes – all for the same great cause."
Modelled after the hit TV show Dancing with the Stars, the evening saw the doctors face off against one another in a friendly dance competition. The doctors and their professional dance partners from the Arthur Murray Dance Schools danced everything from a sultry salsa to a dramatic paso doble and an uplifting disco routine.
The dancers faced a panel of celebrity judges including Jean-Marc Généreux, the choreographer and judge from the popular TV show So You Think You Can Dance, CTV News Anchor Mutsumi Takahashi, CJAD 800 Morning Host Andrew Carter, and international dance champion Méryem Pearson. Mose Persico, Entertainment Host on CTV News and CJAD was the emcee.
The dancing doctors represented the different sites and missions of the MUHC:
Dr. Dara Charney – Director McGill RUIS Addiction Program, Mental Health Mission
Dr. Frederic Dankoff – Site Director, Department of Emergency Medicine, Royal Victoria Hospital
Dr. Sunil Garg – Cardiologist, Lachine Hospital
Dr. Nadia Giannetti – Medical Director of the Heart Failure and Heart Transplant Centre, Royal Victoria Hospital
Dr. Rayan Kaedbey – Hematology-Oncology, Montreal General Hospital
Dr. Nadine Korah – General Pediatrics Fellow and Chief Resident, The Montreal Children's Hospital
Dr. Preetha Krishnamoorthy – Pediatric Endocrinologist, The
Montreal Children's Hospital
Dr. Dick Menzies – Director of the Respiratory Division, Montreal Chest
Institute
Dr. Yoel Moyal – Emergency Department Physician, Lachine Hospital
Dr. Donatella Tampieri – Director of Diagnostic and Interventional Neuroradiology, Montreal Neurological Hospital and Institute
"I congratulate all 10 doctors for their magnificent performances this evening. They took time out of their very busy schedules to train and prepare, and we can't thank them enough for their enthusiasm and their good-naturedness," said Normand Rinfret, interim director general and CEO of the MUHC. "This evening reflects the great spirit that we see throughout the MUHC and the passion that our entire team brings to patient care day in and day out."
John Rae, chair of The Best Care for Life Campaign, said the event demonstrates how raising money for an important cause can also make for an enjoyable evening. "Everyone thoroughly enjoyed themselves, and we are indeed grateful to the doctors and their wonderful supporters for contributing to The Best Care for Life Campaign. Dancing with the Docs was a tremendous success that promises to become a much-anticipated annual fundraiser," he said.