Hundreds attend MUHC Summer Festival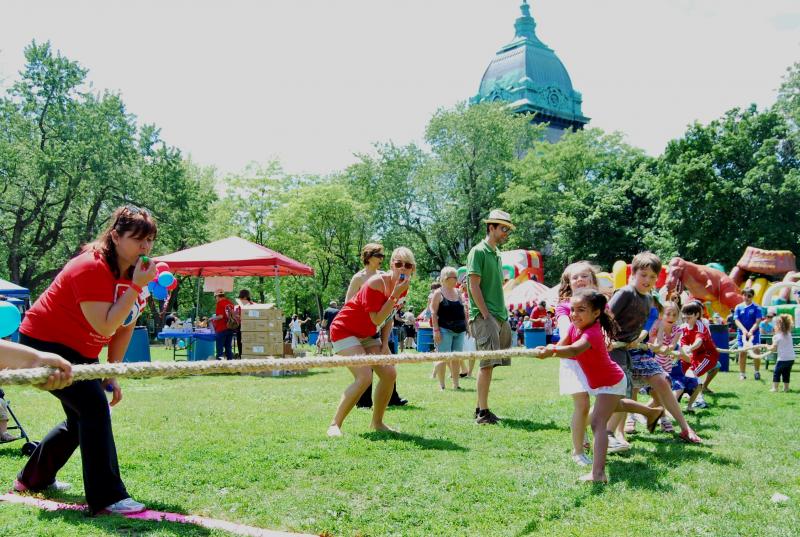 MONTREAL, June 12, 2012 – Sunshine and blue skies made for a perfect day on Saturday, June 9 as hundreds of McGill University Health Centre staff, their family and friends, and Glen site neighbours turned out for the MUHC Summer Festival in NDG Park. 
The event featured a variety of activities including large inflatable games, a reptile petting zoo, and classic summer games like tug-of-war, hula hoops and a limbo contest.  A maquette of the new Glen site was also on display, giving visitors the chance to see the hospital and research facilities taking shape just down the street near Vendôme metro station.  Construction is set to be completed in fall of 2014 and the hospital will welcome patients in the summer of 2015.
The event was emceed by CHOM 97.7 FM radio host Jason Rockman, while the bands Glo, 3 and a Half Men, and The Choir Boys kept the music flowing all afternoon.
"The Summer Festival was a wonderful opportunity to bring the MUHC family together," said Marie-Claire Richer, director of the Transition Support Office, which organized the event.  "The sense of community generated by this type of gathering is certainly vital for a successful transition to our new home at the Glen site."
"The weather was absolutely perfect," said Bridget Callaghan from the transition team who led the volunteer organizing committee.  "We are also grateful for all of the sponsors and volunteers who stepped forward to help make this day possible and enjoyable for everyone."
The event raised $24,180 that will go to The Best Care for Life Campaign in support of the New MUHC.
Gold sponsors: Amusements Airbounce, Groupe immobilier santé McGill, MOOG Audio Laval, SNC Lavalin; Silver sponsors: Eventure, Mofax, Le glacier bilboquet Westmount, Preston Phipps, RBC; Bronze sponsors: B & M Restaurant, Dagwoods, Dairy Queen Sherbrooke, Glo, Loblaws St. Jacques, Magazoo, McDonald's St. Jacques/Sherbrooke, Moishes, Pasta Casareccia, Sciences en folie / Mad Science, St-Laurent Coiffure Jean-Talon, Ye Olde Orchard Pub & Grill