The Research Institute of the McGill University Health Centre
World-class labs to strengthen our bench-to-bedside approach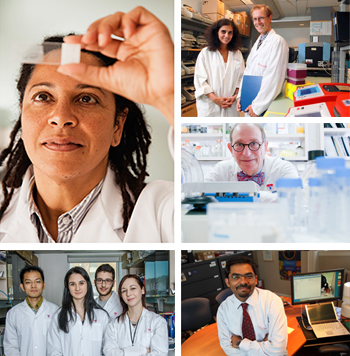 The Research Institute of the MUHC (RI-MUHC) is an international research powerhouse with a worldwide reputation in the field of biomedical sciences and health care. It supports over 460 researchers and over 1,200 graduate and post-doctoral students and fellows.
At the Glen, we have 105 lab modules in a five-storey building - all within close proximity to hospital facilities giving our researchers direct access to clinicians and patients while encouraging collaboration
An interactive "research lab neighborhood," with open concept lab modules designed to encourage teams from different fields to work together towards new breakthroughs
Cutting-edge equipment and advanced medial computer systems to help our researchers collaborate with colleagues from around the world
Learn more about our Research Institute here.
The Research Institute of the MUHC is supported in part by the Fonds de recherche du Québec−santé (FRQS).
Our Address: (Administration Address)
The Research Institute of the McGill University Health Centre
2155 Guy Street, 5th Floor
Montreal, Que.
Canada
H3H 2R9


Information:
Tel: 514-934-1934 ext. 48354
Fax: 514-934-8577

Information:ri_reception [at] muhc [dot] mcgill [dot] ca (The Research Institute)
The Research Institute of the MUHC