Viagra could help babies deprived of oxygen during childbirth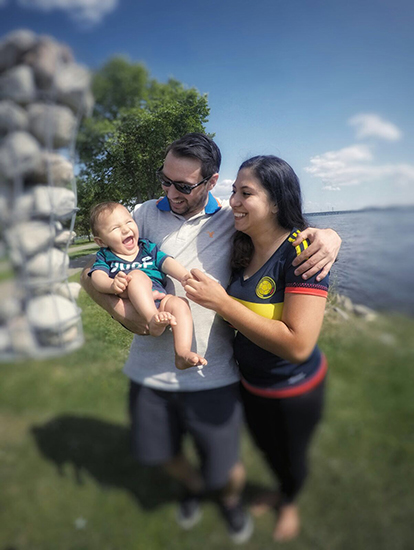 Aleyda Jimenez and Michel Lévesque with their son Antoine.
"We had nothing to lose, but so much to gain," were the first thoughts of Aleyda Jimenez and Michel Lévesque when they decided to let their son Antoine, then a day old, participate in a new clinical trial led by Dr. Pia Wintermark, a pediatrician and neonatologist at the Montreal Children's Hospital of the McGill University Health Centre (MCH-MUHC).  Dr. Wintermark and her team at the MUHC Research Institute are studying how the popular blue pill Viagra, seems to repair the brain of newborn babies who have suffered oxygen deprivation at childbirth.
Despite all the precautions taken, there are still complications around the time of childbirth and everything does not always go as planned. This is what happened when Aleyda stopped feeling her baby move for more than 24 hours. "Everything went very well until this incident. Antoine was deprived of oxygen at birth and had to be resuscitated, which had serious repercussions on his health, including his heart and lungs," she explains.
Neonatal asphyxia happens when the baby does not receive enough oxygen at birth. It occurs in four births out of 1,000. Injuries to the brain can lead to learning and developmental difficulties, cerebral palsy and can sometimes be fatal.
Currently, there is only one treatment for newborns who lack oxygen or blood at birth: hypothermia. It is a standardized procedure at the MCH-MUHC since 2008. The newborns body temperature is lowered to 33.5 ˚C for 72 hours, which is supposed to allow the brain to recover from oxygen-deprivation by preventing too much blood coming back to the brain after such a traumatic event. Many studies have already shown that hypothermia reduces the amount of neurological damage to the brain, but, unfortunately, this treatment only works for one in seven babies.
By analyzing the brain of newborns with magnetic resonance imaging (MRI), Dr. Wintermark's team observed that cold does not always prevent the excessive and adverse effects to the increase in the blood flow to the brain.
"It was a surprise. It was believed that it was necessary to wait 7 to 10 days after birth to know if the baby had brain damage despite the hypothermia treatment, but from the second day of life, we saw that it is already possible to see brain damage in the treated babies," she explains.
In a first, the researchers decided to use the hypothermia treatment with sildenafil - the drug marketed under the name Viagra - to children with brain damage as of the second day of life. Sildenafil dilates blood vessels, those that facilitate the male erection, which is the effect for which the drug is known. "It's not the first use we think of when we talk about Viagra, but it's been used by pediatricians for years to treat pulmonary hypertension and other respiratory problems in babies and children. It is also being studied for use in adult patients suffering from stroke," says Dr. Wintermark, who is also a scientist with the Child Health and Human Development Program at the RI-MUHC.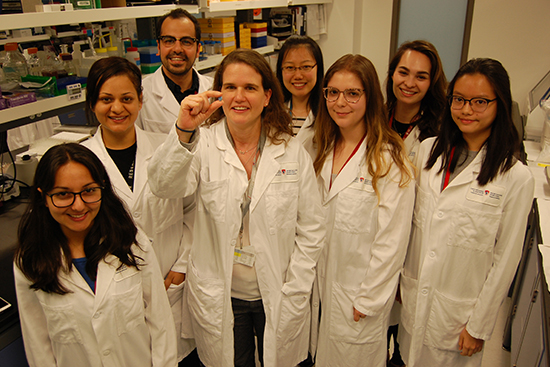 Dr. Pia Wintermark's team at the Glen site of the Research Institute of the MUHC. From left to right: Palig Balian, Zehra Khoja, Armin Yazdani, Dr. Wintermark, You Jia Zhong, Bianca Olivieri, Alexandra Belanger, and Brittany Ngo.
"We tested the drug on baby rats who lacked oxygen, she says, and we observed that sildenafil decreased the amount of brain damage and inflammation and increased the number of neurons in the brain of rodents."
The results of the research were so promising that Health Canada has approved a Phase 1 clinical study to be conducted in children with birth asphyxia. The team is currently following three babies, including Antoine, who had brain lesions on the second day of the hypothermia treatment. The three children received Viagra or a placebo on a randomized protocol for seven days. These babies will be followed up to the age of two years and will undergo a yearly exam for their first 24 months of life. The team is planning to recruit a total of 30 newborns to complete the first part of the study.
"We will continue to closely study the mechanisms by which Viagra helps repair the brain. We need to do more research to make sure that this treatment does not cause any side effects, then we can expand the study to babies across Canada," says Dr. Wintermark.
"Viagra has the advantage of being inexpensive and easy to administer," says the researcher. "If its effectiveness is proven, it could be used throughout the world."
Dr. Wintermark emphasized the courage of the parents who, despite the severity of the situation, agreed to having their newborn participate in this experimental treatment, without having assurances of promising results at this stage of the research.
"My husband and I are scientists, both chemists, and we are aware of the importance of clinical research for the development of future treatments. Even though our child was fighting for his life, we decided to have him participate in this clinical trial led by Dr. Pia Wintermark," said Aleyda. "What we experienced can happen to anyone and if this research can help Antoine or future babies in the same situation, it is worth it."
An incomparable resource for parents
The research team has created a website called NeoBrainParents to support and inform parents who have babies treated with hypothermia: www. neobrainparents.org