Robert Richard gets impeccable care from Verdun Hospital to the MUHC
When Robert Richard had cervical spinal stenosis, a condition with potential severe consequences, he was grateful to have quick access to ultra-specialized, first-rate care at the McGill University Health Centre (MUHC).
Businessman Robert Richard suffered from a sore neck and lower back pain for several years. He had consulted his family doctor on many occasions, trying in vain to find out the cause of his discomfort.
"Dr. Jocelyn Bariault was very competent and followed a rigorous examination protocol," he says. He had me undergo X-rays and magnetic resonance imaging tests but was unable to make a final diagnosis."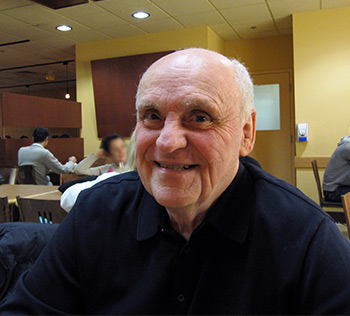 When he began to lose his balance and to have trouble walking, he consulted his family doctor once more, thinking his problem was related to the lower back region.
My condition continued to deteriorate, and I started to fall. That was when Dr. Bariault told me it was time for stronger measures. He said it appeared to be more than a lower back problem, and told me to go to the emergency room. From then, events began to unfold."
At the Verdun Hospital emergency room, Neurologist Dr. Philippe Saltiel examined the 75-year-old entrepreneur.
"Dr. Saltiel told me it probably had nothing to do with my back, but with my neck," says Mr. Richard. "That diagnosis was later confirmed by magnetic resonance imaging,"
Mr. Richard had a cervical herniated disc between the 3rd and 4th vertebrae causing a cervical stenosis. This narrowing of the spinal canal in the neck puts pressure on the spinal cord and nerves. He was immediately referred to Dr. Benoit Goulet, a neurosurgeon with expertise in spinal surgery and the Director of the Spine Program at the Montreal Neurological Institute – The Neuro – of the MUHC. Health professionals at this centre of expertise are particularly interested in studying cases of patients who have spinal cord tumours or other problems of the spinal cord. According to Dr. Goulet, collaboration between front-line and second-line services and centres offering ultra-specialized care is essential in preventing permanent neurological damage.
"In a case such as that of Mr. Richard's, it's wise to operate quickly to prevent damage to the spinal cord that could lead to permanent paralysis of the arms or legs," he explains.
Two weeks later, once the preparatory examinations were completed, Mr. Richard underwent an operation at The Neuro to remove the herniated disc and reinforce the vertebrae with bone graft and a titanium plate with four screws. The surgery went well, and the next day he felt well enough to talk on his cell phone. "Dr. Goulet came and asked me what I was doing. 'Life goes on at the office!' I told him."
During his hospital stay, Mr. Richard was impressed with the dedication of the medical staff.
"I was touched by their camaraderie, the quality of care they gave, their availability day and night and the close attention they paid to me," he says.
Mr. Richard wishes to thank the teams at Verdun Hospital, The Neuro and the Royal Victoria Hospital, where he had his follow-up appointments.
"I'm an ordinary citizen and I was given exceptional treatment everywhere," he says. "I don't think it's just a coincidence."
Mr. Richard also received outstanding care after he returned home, two days after his surgery. His spouse and "nurse extraordinaire" Aline attended to him 24 hours a day.
"I delayed my recovery because I got used to the service!" he says with a smile. "I was brought coffee, lunch, whatever I needed. I couldn't let the 'non-taxable' benefits go so quickly!"
Like many other patients undergoing the same surgical procedure, Mr. Richard had to wear a cervical collar for three months, which was not easy. Even more difficult, he says, was not being able to leave the house for a while. Overall, his recovery has been excellent, but that is not always the case, explains Dr. Goulet.
"The goal of the surgery is to create space, so the spinal cord can regenerate," he says. "But we can't guarantee recovery, which can range from zero to 100 per cent, depending on the damage to the spinal cord."
Mr. Richard has almost completely healed and is back in the office with his two children, who help manage the family's importing business.
"They're the ones who lead now, and I'm very proud of that."
He remains, however, permanently attached to his iPhone, iPad and computer.
"Ask Tony Bennett to stop singing," he says. "With my cell phone and my computer, it's the same thing!"