Getting through prostate cancer radiation treatment one smile at a time
The winter of 2015 – one of the coldest in Montreal history – was hard for most people. But it was particularly challenging for Rory Hill. The 64-year-old retiree was undergoing treatment for prostate cancer and had to make daily visits to the Radiation Oncology Clinic of the Montreal General Hospital (MGH) of the McGill University Health Centre (MUHC).
"I don't know how I didn't go into a state of depression," he says.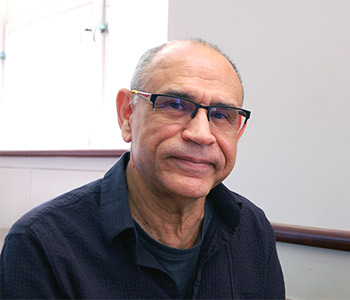 "I don't know how I didn't go into a state of depression," he says. "I had cancer, and the weather was so horrible and cold. Every day I woke up and I realized: 'Oh no, I've got to go to the hospital again for treatment.'"
Hill gives the MGH team credit for helping him get through each day with his spirits up.
"The MUHC team was so nice! They knew how to calm down my fears," he says. "Even when I requested to have my treatment in the morning, because I was afraid I would slip on the ice leaving the hospital in the evening, they managed to change it."
Diagnosed in January 2014, Hill was at first referred to Dr. Fred Saad, director of Urologic Oncology at the University of Montreal Hospital Centre (Centre Hospitalier de l'Université de Montréal, CHUM).
"I had surgery at the CHUM's Saint-Luc Hospital in March 2014, and the treatment I received there was excellent," Hill says. "Unfortunately, blood tests showed I still had cancer, so Dr. Saad recommended I undergo radiation treatment. I chose to be treated at the MGH because it was closer to my home"
It was early 2015, by the time all tests were done and Hill started his treatment at the MGH.
"From my first day at the MGH, I wasn't treated like just another patient. Everybody – the receptionists, the social workers, the nutritionists, the radiation technologists and the Oncology team led by Dr. Marie Duclos – treated me as a whole person, " Hill says.
Nurse clinician in Radiation Oncology Josée Lamoureux confirms that Dr. Duclos is a physician who "collaborates with the rest of the team to treat patients as individuals and help them and their families manage the psychosocial aspects of cancer."
Social work intern Ana Bobic met with Hill every week and noticed the improvement in his mood as time went by.
"Like most patients, Mr. Hill was quite concerned about what to expect the first time he visited the clinic. The radio-oncology team assisted him throughout each step of the treatment, and that helped decrease his anxiety levels," Bobic explains. "Our team is also very positive, we continuously celebrate the patient's resilience and strength, and that energy helps them get through their treatment."
Lamoureux, who has been working with oncology patients for more than 26 years, believes that the fact that cancer patients visit the clinic so frequently during their treatment – every weekday for up to 8 weeks – helps create a bond. "Patients say our clinic is a friendly place. I say we're lucky! We meet many interesting people."
For Hill, the support and friendly atmosphere he experienced at the clinic made all the difference.