Cheryl-Anne Simoneau's association with the Royal Victoria Hospital of the McGill University Health Centre (RVH-MUHC) goes back a long time. It was there that she gave birth to her daughter Vanessa some 30 years ago and where she was diagnosed with a rare form of leukemia 15 years later. Since then, she has visited the Oncology Day Clinic (ODC) dozens of times, but this past May Cheryl had not one, but two chances to see "her" hospital in its brand new location. Besides her regular check-up at the ODC, Cheryl paid a special visit to the Birthing Centre, where her daughter Vanessa had just given birth.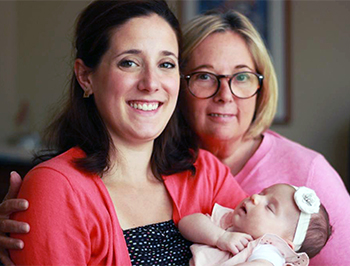 "I was really impressed with the Birthing Centre and the post-natal units," says Cheryl. "The accommodations were the best, and the staff was amazing."
Privacy and space
Vanessa, who had her first child at the RVH in 2013, couldn't help comparing the two experiences.
"Where I gave birth at the old Vic it was fine, and I received excellent care, but the recovery area in the Women's Pavilion was in need of tender loving care," she says. "This time, I stayed in a neat, clean and bright room with a shower and a TV, and my husband had a nice couch to lie down on. And when the whole family came to visit, there was enough space for everyone."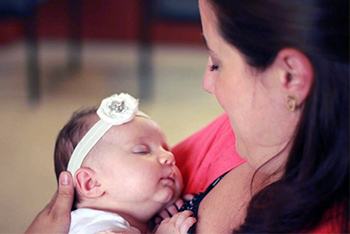 The one thing that still needs improvement, says Vanessa, is the food. Instead of a breakfast of toast and a muffin, she would have preferred a more nourishing meal. But without reservation, she appreciated the care she received. 
"As always, the nurses were professional and welcoming. I was also happy to see they encouraged breastfeeding and skin-to-skin contact with my second daughter," says Vanessa. "They came by often to check on me and provided plenty of information about where to call for help when I got home."
Improved services
Cheryl has chronic myelogenous leukemia* (CML). This  treatable form of leukemia requires regular blood tests and visits to the hospital. 
"The new Oncology Day Clinic is outstanding. In the old Vic, people were nice and the service was good, but the offices were dark and small, and the walls, paper-thin," says Cheryl, who has also been a member of the MUHC Patients' Committee since 2000. "We now have a bright and spacious waiting room and the consultation rooms are sound proof. The organization of services has also improved. It's easier to have blood tests and other exams done and to book appointments."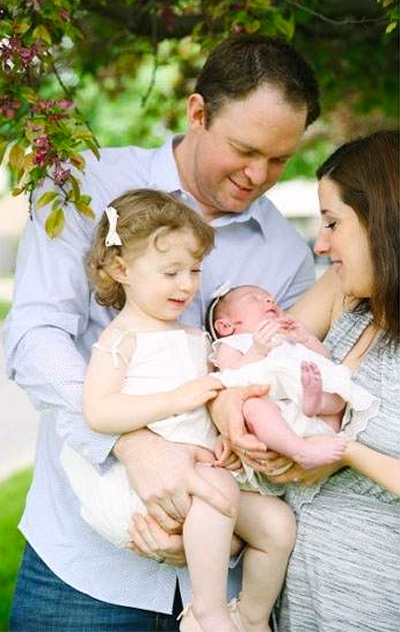 Cheryl used to work in the pharmaceutical industry and has visited many hospitals all over the world. From this perspective she is optimistic about the whole transformation taking place at the MUHC.
"I'm impressed with the Glen. It's well structured and easy to get around. I know I'm going to a hospital, and this you can never erase but at least the experience is the best it can be," says Cheryl. "And I know it was designed to sustain this for generations to come."
* In 2006, Cheryl-Anne Simoneau founded the CML Society of Canada, a foundation that provides patients with chronic myelogenous leukemia and their families support, education and information about the disease as well as current and emerging treatments and research initiatives.
"My room felt like a cocoon, it was so comfortable," says Vanessa Simoneau of her accommodations at the RVH, where she had her second daughter, Eloise. Also in the picture, Vanessa's husband, James Tellier, and their two-year-old daughter, Laurali.